Build Possibilities
Step inside and the matte-black industrial look and feel continues. It's a smart-looking cavern with excellent paint work and a logical layout that touts most of the usuals alongside a few clever tricks.
Starting with the basics, we can see seven expansion slots, a large cutout in the motherboard tray for CPU cooler installation, and six storage bays - that's two each of 5.25in, 3.5in and 2.5in. The optical bays are tool-free, as are the hard-disk bays' plastic trays, while the SSD mounts are described as "slip-and-clip pockets." These two small trays allow for a 2.5in drive to slip inside (though you do need to secure them using screws) and can then be attached above the PSU partition or to the rear of the motherboard tray. There are two mounting points in each location, so while only two SSD pockets are provided as standard, you could install up to four in total.
Choosing to take a compartmentalised approach, Cooler Master has the PSU area separated from the rest of the interior, and the supply is designed to slide in from the back before being secured with a thumb-screwed mounting plate. Elsewhere, we have a total of five good-sized cable-routing holes, all with rubber grommets, and three Velcro strips around back that do a great job of keeping cables tidy.
In terms of cooling, there are just two pre-installed fans: a 140mm front intake and a 140mm rear exhaust. Both are basic three-pin affairs, however there's plenty of room for expansion. You'll find three 120/140mm fan mount locations at the front of the chassis, plus a further two up top. And yep, that means room for a large front radiator - you could go for a 280mm unit provided you're willing to lose the removable optical drive cage.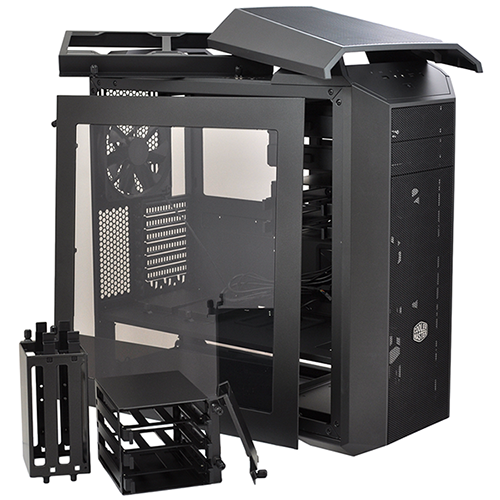 There's already plenty to like, but Cooler Master has added to the MasterCase 5's appeal through the addition of various modular components. Marketed as the 'FreeForm Modular System', these optional extras include a top cover panel and 240mm water-cooling bracket, a windowed side panel, as well as additional hard-disk cages or SSD pockets. Looking ahead, we're told there will also be solid front panel options and fan controllers. The idea is you buy the bits that matter and configure the chassis the way you want it.
Sounds good, but how much will the optional extras cost? That's a potential sticking point. Cooler Master hasn't yet divulged pricing for individual FreeForm parts, but taking into account the cost of retail packaging, shipping and distribution, we would imagine the optional upgrades won't come cheap.
What if you want all the bells and whistles from the get-go? Fortunately, Cooler Master has you covered. A second model dubbed the MasterCase Pro 5 also launches today and for £109.99 (a £20 premium) includes the top cover, liquid cooling bracket, windowed side panel and additional drive cages as standard. Hold on a bit longer and there will eventually be a top-of-the-range MasterCase Maker 5 that, for a yet-to-be-determined fee, will also add a front-panel door and fan controller when it arrives in stores in Q1 2016.
It's nice to have the choice and we're intrigued to see how much the individual upgrade options will cost, but even without the modular add-ons, the baseline £90 package has plenty going for it.
Our overclocked Z77 test platform slots in with ease and the system looks great with the dual GTX 970s in situ. Space isn't a problem as the MasterCase 5 provisions for graphics cards measuring up to 296mm in length (or 412mm with the drive cages moved) and CPU coolers can stand anywhere up to 190mm tall. The only real complication we ran into during the build process was that the motherboard standoffs weren't pre-installed (a minor bugbear) and if we're really going to nitpick, we'd have preferred black standoffs as opposed to the supplied gold.
MasterCase 5 gets a lot of the basics right, and it keeps you interested by planning for a modular future. Take for example the storage column, or rather the 'clip-and-click panel' that the hard-disk cage slots into. This slim perforated panel runs down the full length of the column, allowing for drive cages to be adjusted vertically, and Cooler Master will be using this mechanism for future accessories such as water-cooling reservoirs and GPU support brackets.
This has the potential to become one of Cooler Master's best chassis, so let's see if performance is up to scratch.