Introduction
Fractal Design's first foray into the world of HTPC chassis came back in 2012 with the launch of the Node 605. Designed to take powerful PC hardware into the living room, said case was well received but as a first-run product, there was always a sense that Fractal would follow-up with something better.
Well, it has. It's called the Node 202 and in a way this is more than just another chassis. This is an admission from one of the top chassis manufacturers that the PC of today is changing, and though the big, hulking towers of yesterday will never completely disappear, smaller, sleeker machines are surely the way forward.
Priced from £65, the Node 202 is described as "the ultimate PC case for those looking for a beautifully designed, compact chassis that can house a capable gaming build." Sounds right up our street, and first impressions are good as the 377mm x 88mm x 332mm dimensions make it sleek enough to be used in a variety of scenarios.
The form factor is reminiscent of SilverStone's FTZ01, and Fractal follows suit by including a stand as part of the bundle, allowing the enclosure to sit vertically in an office or bedroom. The case is at its best, we feel, when laid horizontally alongside your other AV equipment, and though the Node 202 is bigger than a Sky box, it ought to fit in most entertainment units without kicking up a fuss.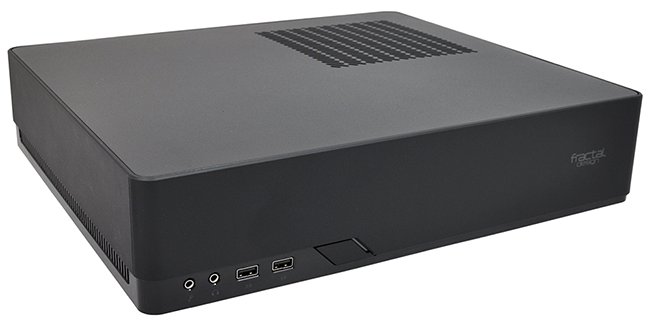 Laid flat, the chassis is just 82mm tall (rising to 88mm with the rubber feet attached), and that obviously means component compatibility has been sacrificed in one way or another. There are no optical drives, you won't be able to install any 3.5in hard disks, motherboard support is confined to mini-ITX, no fans are included and the power supply needs to conform to the smaller SFX standard, as opposed to widely available ATX.
That's a lengthy set of caveats right there, yet they all kind of make sense, and by making such brave design choices, Fractal has been able to ensure that the Node 202 remains trim and good-looking throughout. The all-black box isn't by any means eye-catching, but that's a good thing - it's simple, uncluttered and will blend into most surroundings.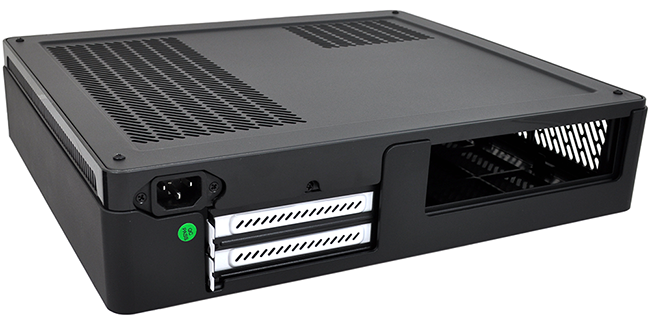 The chassis' front face keeps to the very basics with audio jacks, dual USB 3.0 ports and a power button adjoined to a thin, LED-illuminated strip whose white backlight is nice and subtle. There's no blinking hard-disk activity LED, which is a good thing for HTPC usage, and the only potential oversight here is an IR receiver. Having one built in would have been nice, though it's nothing that can't be remedied by a plug-in USB solution.
Around back, the Node 202 is equally streamlined. There are just two expansion slots and a power connector that's pre-routed to the internal PSU bay. What's interesting, and in a way helpful, is that Fractal is bringing two variants of the Node 202 to retail. The regular case will fetch £65, however there's a second model priced at £115 that includes a 450W Integra SFX power supply as standard. The £50 premium is in line with what you'd pay for an equivalent PSU at retail, and Fractal's bundled 80 PLUS Bronze-rated supply has the benefit of cables shortened to suit the chassis' internal layout.
On the outside, this is exactly the kind of HTPC case we'd want, and it won't have escaped your attention that Fractal is gunning for the Steam Machine crowd. But what's it like to work with and can you really build a capable gaming rig into a form factor so svelte? The answers are kinda good, and yes, sort of. Let's explain...