Specification and Performance
Fractal Design Define S Specification

Motherboard Compatibility
ATX, Micro ATX, Mini ITX
Drive Bays
Internal 2.5/3.5in x3
Internal 2.5in x2
Expansion Slots
7
Cooling System
Front
3x 120/140mm fans (1x Dynamic GP14 fan included)
Rear
1x 120/140mm fan (1x Dynamic GP14 fan included)
Top
3x 120/140mm fan or 1x 180mm fan with 165mm hole spacing
Bottom
1x 120/140mm fan
Radiator Support
Front
360, 280, 240, 140 and 120mm radiators of all thicknesses
Rear
120 or 140mm radiator
Top
420*, 360, 280*, 240, 140* and 120mm radiators
Bottom
120mm radiator (limits PSU length to 165mm)
Clearance
Graphics Cards: 450mm
CPU Cooler: 180mm
Power Supply: 180mm
Cable Management: 20mm - 40mm
I/O Ports
1x Audio
1x Mic
2x USB 3.0
Dimensions (W x H x D)
233mm x 451mm x 520mm
Weight
5.7kg
*thickness limitation of 55mm for both radiator + fan applies on 420, 280 and 140mm top radiators
Test Methodology
To get a truer feel of how today's latest chassis perform, we've revamped our test platform to better illustrate the noise levels and heat build up of a modern-day build. Most chassis become hot and noisy when attempting to cool our previous platform, which consisted of dual Radeon HD 7950 graphics cards, so we've decided to refresh our graphics, CPU cooler and PSU to offer a more accurate depiction of the current hardware landscape.
Our Z77 test platform now consists of an ASUS Sabertooth motherboard, an Intel Core i5-3570K processor overclocked to 4.4GHz, a be quiet! Dark Rock 3 CPU cooler, 8GB of G.Skill Ripjaws-X memory and two factory-overclocked EVGA GeForce GTX 970 SSC graphics cards in an SLI configuration.
To find out how well the chassis can cool this particular setup, we log CPU temperature while encoding a large 4K video clip. This task puts full load on all available CPU cores and we extend the stress test by carrying out multiple passes. In order to provide a stabilised reading we then calculate an average temperature across all cores from the last five minutes of encoding.
To get an idea of graphics-card cooling performance, we log GPU temperature while playing Tomb Raider at a 4K resolution with Ultra quality settings and SLI enabled. Last but not least, we also measure chassis noise by using a PCE-318 noise meter to take readings when idle and while gaming.
All chassis are tested only with the standard manufacturer-supplied fans (any/all of which are set to 'silent' in the Asus BIOS or low-speed using a fan controller if present), and to take into account the fluctuating ambient temperature, our graphs depict both actual and delta temperature - the latter is the actual CPU/GPU temperature minus the ambient.
Performance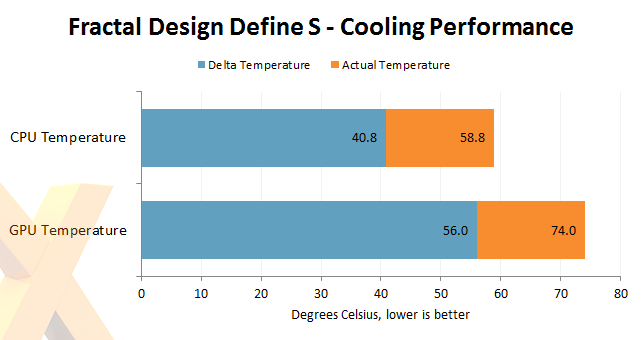 The Define S is the first chassis benchmarked using our refreshed test platform and it has no problem in serving our hardware a good supply of clean air. Our overclocked Core i5-3570K processor is kept below 60ºC under load, and GPU cooling performance is more than adequate, too, with our dual GeForce GTX 970 graphics cards peaking at 74ºC.
What's most impressive, however, is that the Define S is able to keep everything running cool while keeping noise levels to an absolute minimum. A near-silent idle reading of 29.3dB is testament to the quality of Fractal's bundled Dynamic GP14 fans, and that figure climbed to just 35.1dB when gaming. You can of course hear the graphics cards at that point, but noise levels are kept down to an agreeable level, making the Define S a fine choice for a relatively quiet gaming rig.