Introduction
Two years after the introduction of its hugely popular Define R4, Fractal Design is ready to unveil an eagerly anticipated successor, the Define R5.
The latest addition to the Define Series is headed to retail stores this December priced at £83 (or £90 for a windowed version), and if its predecessors are anything to do by, the R5 should be a quiet, well-rounded chassis that doesn't break the bank.
First impressions are that of familiarity. Aesthetically, the R5 has a lot in common with the R4, and that could be either good or bad. Prefer your chassis to be eye-catching and different to the norm? Then the R5 probably isn't going to be your cup of tea. Like your PC to be understated with simple, sleek design? Then you've come to the right place.
We're sort of in between. We do like the look of the R5 - it's quite an elegant box in the flesh - but on the other hand it is perhaps a tad too familiar. Fractal's understated approach was never going to produce something as distinct as the rival Silent Base 800, but a little more jazz wouldn't have done the Define R5's exterior look any harm.
Dimensions of 462mm x 232mm x 531mm make the 2014 model very similar in size to its older relative but at 10.2kg it is slightly lighter. Build quality is on par and Fractal uses many of the same materials, meaning a steel structure topped with a plastic front door.
The similarities are clear to see. Front I/O ports are in their usual place along the top edge and incorporate the same selection of two USB 2.0 ports, two USB 3.0 ports, audio jacks and power and reset buttons. Showing a little more attention to detail, we like the fact that all four USB ports are black and that there's a classy silver trim surrounding everything but the reset button.
One minor niggle with the R4 was that its power LED was too bright for our tastes. This time around, Fractal has tucked it deeper into the door to make the illumination less intrusive, but the blue light is still strong when it catches your line of sight. Being picky, we might have preferred white LEDs - they'd have matched the signature white highlights elsewhere on the case.
Four padded feet help prop the case up and Fractal has implemented a better dust filter on the chassis. This now covers almost the full length of the case, it has longer rails for easier attachment, and better still, it's removable from the front - just open the door and the dust filter can be pulled right out for easy cleaning.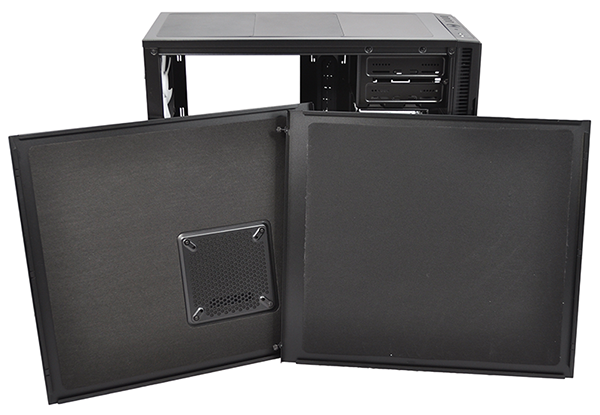 Designed to keep a PC running as quiet as possible, the Define R5 comes lined with sound-absorbing material on the side panels and front door, as well as ModuVent fan covers up top, a pair of 'finely tuned' Dynamic Series fans and a SATA-powered, three-step fan controller.
Quiet running is the key selling point, though that shouldn't necessarily mean a performance or component-compatibility sacrifice. ATX, Micro or Mini motherboards are supported, you'll find two 5.25in optical bays, a further 10 storage trays, good cable management, and, ultimately, plenty of room for a high-end, modern-day rig.
Straight away, we know we're going to enjoy our time working with the Define R5, but it's during the build process that you begin to notice some of the subtle-but-significant changes that Fractal has made. Let's take a closer look.