Inside the Node 804
Reading Fractal's specification sheet can leave you feeling a little dubious. According to the manufacturer, this simple-looking box is said to accommodate up to eight hard disks, four solid-state drives, 10 fans, four liquid-cooling radiators, an optical drive and an ATX PSU, all while leaving room for, say, a pump and reservoir.
Doesn't seem feasible, but what the Node 804 lacks in height, it makes up for in volume, and the generous cube-shaped interior is obviously being put to good use.
Let's start with what's included as standard. Fractal ships the Node 804 with a trio of pre-installed Silent Series R2 fans; a 120mm front intake and a 120mm exhaust in the right chamber, as well as a 120mm exhaust in the left chamber. All three are equipped with three-pin headers, and what's really handy is that Fractal includes a three-way fan controller as standard. This is powered by a SATA connection and controlled by a rear toggle-switch that allows users to alternate between low, medium and high fan speeds.
The built-in cooling configuration should be ample for most builds, however there's massive scope for improvement if you want to push the boat out. Removing the front cover reveals a total of four 120mm fan mounts, a further four 120x140mm mounts are hidden beneath the top cover, and one of the rear exhausts could be upgraded to 140mm, if you felt the need.
This elaborate splattering of fan mounts results in radiator-mounting opportunities aplenty. The front of the chassis can house two 240mm radiators (one in each chamber), though in this scenario radiator thickness is limited to 60mm including fans. The better bet is to have chunkier radiators up top, where a 240/280mm rad can be installed in the right chamber alongside a 240mm rad in the left.
An exciting prospect for liquid-cooling aficionados, though do be aware of a couple of provisos. You wouldn't be able to get long radiators installed in the front and up top - it's one or the other due to space restrictions - and if you choose to have them mounted in the roof, you will need to remove/relocate the hard-disk cages, while the maximum height of any installed memory modules may also be reduced. Fractal's recommended maximum radiator configuration, with no modifications necessary, is 1x240mm, 1x280mm and 2x120mm all in play simultaneously.
You're not going to be short on cooling performance whichever way you look at it, and you won't be left wanting in terms of storage, either. The Node 804's left chamber has two pull-out drive cages that can each accommodate up to four 3.5in disks. Both cages are mounted to the roof as standard, though if you tidy up your cabling one can be relocated alongside the power supply. Those who take the liquid-cooling route will note that this could also be a prime spot for a reservoir.
Over in the other chamber, two mounts on the bottom support either 2.5in or 3.5in disks, and removing the front cover reveals a further two 2.5in mounts tucked neatly out of sight. This hidden area can also a house a slim slot-loading 5.25in optical drive, and there are plenty of holes for cables to be routed inside the chassis with ease. Indeed, cable management on the whole is good - we're particularly keen on the Velcro straps next to the PSU - although a couple of tidy-looking rubber grommets between chambers wouldn't have gone amiss.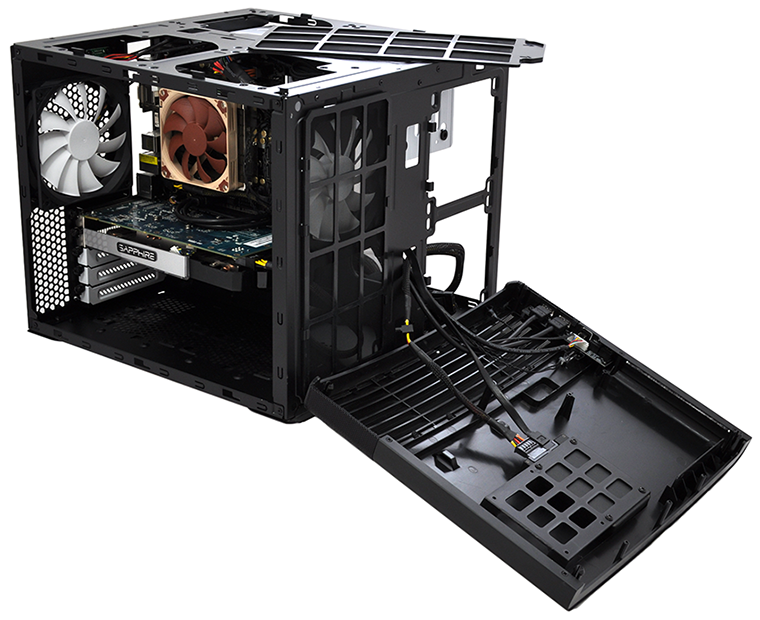 You do start to wonder, who needs a full tower when a case like this could house a couple of Titans, four SSDs, eight hard drives and a few radiators?
Our Mini ITX build isn't quite so lavish and consists of an ASRock FM2A85X-ITX motherboard, an AMD A10-6700 APU, 16GB of Adata XPG DDR3 memory, a low-profile Noctua NH-L9a cooler, a Sapphire HD 7770 Vapor-X graphics card and a Corsair CX430 power supply. All fit in very easily and there's clearly scope for more as the Node 804 supports graphics cards measuring up to 320mm in length and CPU coolers standing up to 160mm tall.