Performance
Test System Configuration

Motherboard
ASUS Sabertooth Z77
CPU
Intel Core i5-3570K @ 4.4GHz
CPU Cooler
Arctic Cooling Freezer 13
Memory
G.Skill Ripjaws-X 8GB (F3-12800CL7D-8GBXH)
Memory Speed and Timings
1,600MHz, 7-8-7-24-2N
Graphics Cards
2x Sapphire Radeon HD 7950 OC in CrossFireX
Storage
120GB SanDisk Extreme SSD
Optical Drive
Pioneer DVR-S19LBK DVD Writer
Power Supply
Corsair HX1050W
Our Z77 test platform consists of an ASUS Sabertooth motherboard, an Intel Core i5-3570K processor overclocked to a modest 4.4GHz, an Arctic Cooling Freezer 13 cooler, 8GB of high-performance G.Skill Ripjaws-X memory and two factory-overclocked Sapphire Radeon HD 7950 OC graphics cards in a CrossFireX configuration.
To find out how well the chassis can cool this particular setup, we record the CPU temperature after a 15-minute stint of the intensive Prime95 stress test is applied to all cores. To get an idea of GPU cooling performance, we record GPU temperature after 15 minutes of running Aliens vs. Predator. Last but not least, we also record chassis noise by using a PCE-318 noise meter to take readings when idle and while running Aliens vs. Predator.
All chassis are tested only with the standard manufacturer-supplied fans (any/all of which are set to 'silent' in the ASUS BIOS or low-speed using a fan controller if present), and to take into account the fluctuating ambient temperature, our graphs depict both actual and delta temperature - the latter is the actual CPU/GPU temperature minus the ambient. For the record, room temperature while testing the Fractal Design Node 605 was recorded as a cool 19ºC.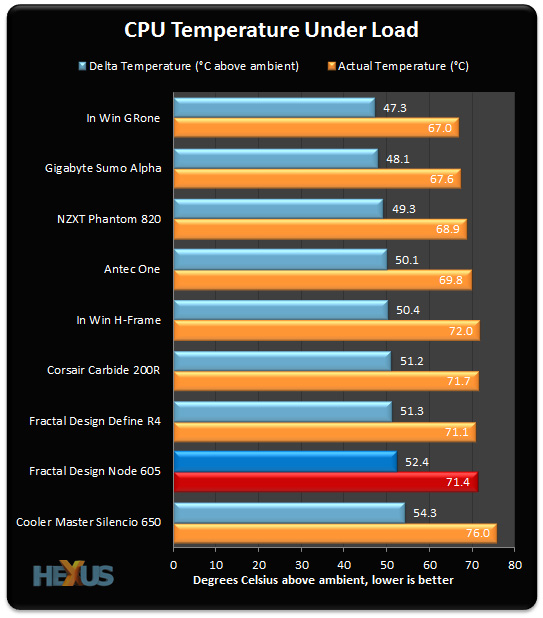 With only two Silent Series fans and a fair amount of cable clutter, we were half-expecting our overclocked Core i5 processor to run into trouble under extreme load.
We're happy to be proved wrong, though, and the Node 605 does really well to keep CPU temperature hovering just over 71ºC. It's not much warmer than a performance-orientated tower.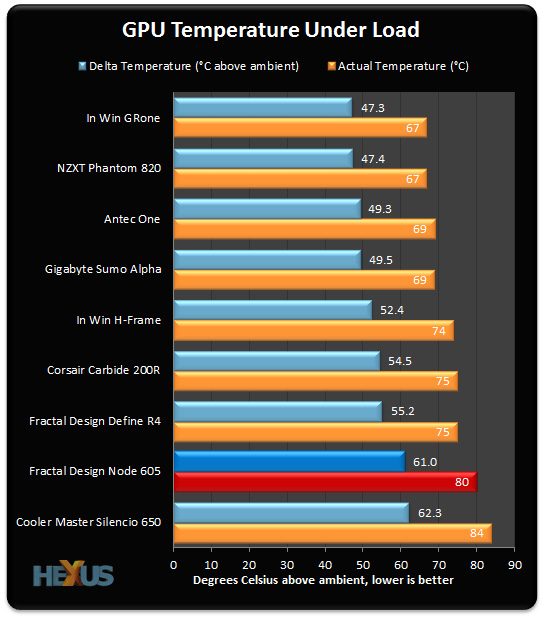 CPU cooling performance was admirable, granted, but the Node 605 is understandably less impressive on the GPU front. Two overclocked Radeon HD 7950 graphics cards in a CrossFire configuration can be tricky for most chassis, and the Node 605 only just manages to keep them at around 80ºC.
The temperatures are still within comfortable levels, though do be aware that hitting the 80ºC mark causes the fans on both Sapphire graphics cards to ramp up in speed, resulting in more noise.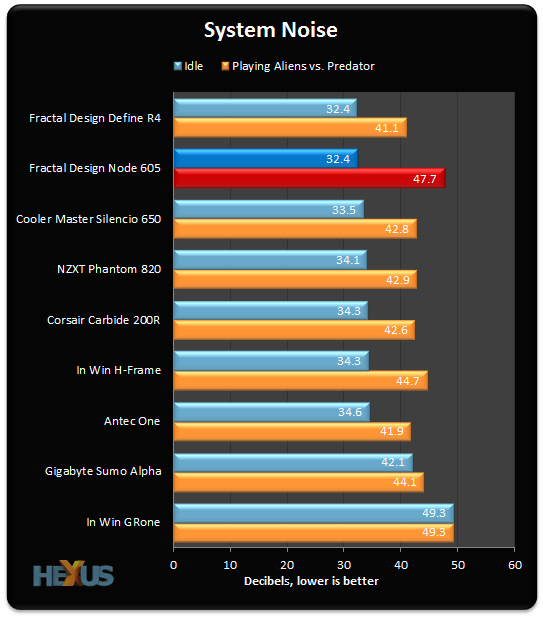 There's a real divide in acoustic performance between our idle and gaming states. Turn the fan controller to low, let the system idle, and it's barely audible. One of the quietest we've tested, in fact.
But turns the fans up to maximum while gaming and noise does increase quickly. Our high-end, dual-GPU configuration becomes clearly audible as the graphics cards struggle to keep core temperature in check.