Introduction
It's easy to see why Fractal Design's range of Define enclosures have become popular in a short space of time; they offer minimalist aesthetics, a good selection of features, integrated sound-proofing and a price tag that typically won't break the bank.
The Define's popularity has allowed Fractal Design to establish a foothold in the competitive chassis marketplace, which is no small feat for a company founded only five years ago. But the Swedish manufacturer can't rest on its laurels, and with quiet enclosures becoming increasingly popular, it's attempting to spruce up its range with the new-and-improved Define R4.
The mere fact that this is a new Define series enclosure had us bubbling with anticipation; but don't let the jump from R3 to R4 fool you. The new chassis looks and feels so similar to its predecessor that you could argue Define R3.5 would have been a more accurate name.
But for fans of the Define range, this familiarity is likely to be a good thing; the chassis still looks minimalist, it's still packed with features, it's still geared for quiet operation and with a £90 MSRP, it's still priced the right side of a hundred quid.
Fractal Design Define R4 specification
Case Type
Mid-Tower
Materials
Steel Frame, Plastic Front
Available Colours
Black Pearl / Titanium Grey / Arctic White
Motherboard Support
ATX / Micro ATX / Mini ITX
Drive Bays
External
5.25in x 2
Internal
3.5/2.5in x 8
Cooling
Front
1 x 140mm fan (included)
1 x 120/140mm fan (optional)
Rear
1 x 140mm exhaust fan (included)
Top
2 x 120/140mm fan (optional)
Bottom
1 x 120/140mm fan (optional)
Side
1 x 140mm (optional)
Expansion Slots
7+1
I/O Panel
USB 3.0 x 2
USB 2.0 x 2
Mic x 1, Audio x 1
Fan Controller (behind door)
Max. Graphics Card Length
295mm (with HDD cage)
430mm (without HDD cage)
Max. CPU Cooler Height
170mm
Power Supply
ATX (not included)
Weight
12.3kg
Dimensions
(H) 464mm x (W) 232mm x (D) 523mm
Aesthetically, the Define R4 doesn't provide a lot of visual flair. It looks so similar to the older R4 that the exterior design is starting to appear tired and, well, a little too basic. We'd like to see Fractal mix things up a little, but it evidently doesn't want to spoil what's already a winning formula.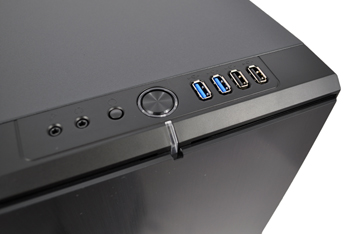 Dig deeper into the specification, however, and you do start to see a couple of crucial upgrades that are designed to change an already-good chassis into a great one.
First and foremost, the front I/O has been tarted up. eSATA connectivity has fallen by the wayside, and in its place Fractal has provided two USB 3.0 ports as standard (with an on-board internal connector) alongside the usual duo of USB 2.0. The power, reset and audio functions all remain the same, as does the thin-blue LED, which still looks crude on a £90 case.
Externally, it looks as though not much else has changed, but there is one significant upgrade that's easy to miss; the R4 is bigger than its predecessor. The change isn't huge - this is still a mid-tower solution - but the R4 is 22mm taller than the R3, and, more importantly, 26mm wider.
The crucial increase in size should make cable management that little bit easier, and these small-but-noticeable changes extend throughout the chassis. There's now a fan controller built-in as standard, the hard-disk cages are removable, and the rubber-grommeted water-cooling holes that adorned the rear of the R3 have been traded for a vertical expansion slot, taking the total up to 7+1.
Fractal's changes aren't ground breaking, but then chassis upgrades rarely are. The important message here is that the R4 is designed to be fundamentally better than its predecessor. But there's a catch; going by today's prices, the R4 costs £15 more than the R3. Let's take a look inside to see if it's worth spending extra for an upgraded model that looks and feels very familiar.