Introduction
It wasn't that long ago that Antec would have been placed high on our list of world's best chassis manufacturers, but the company's position isn't as strong as it once was. The marketplace is fiercer than ever, and while relative newcomers such as Corsair, NZXT and Fractal have arrived on the scene with eye-catching products of their own, Antec has developed an unfortunate tendency to misfire.
The company has produced some fantastic enclosures over the years, and we continue to use them to this very day, but recent additions have left something to be desired. The once-promising LanBoy Air turned out to be a missed opportunity, and the more recent SOLO II didn't exactly set hearts aflutter.
Antec needs a showstopper, and it might just have one with the latest addition to its award-winning Performance One Series, the P280. On paper, this "super mid-tower" touts an enthusiast specification that's befitting the £120 price tag. Out the box, the P280 offers three pre-installed fans (though it can accommodate up to seven in total), a massive nine expansion slots, and support for large XL-ATX motherboards. There's a lot of promise, and the P280 has been a long time coming, so let's dive in and see if it delivers.
Considering the specification and the target enthusiast market, Antec could have gone over the top with the P280's aesthetics. Thankfully, that isn't the case - the chassis' exterior is subtle, smart and surprisingly elegant.
The matte-black finish is attractive (albeit highly susceptible to scuffs) and it's offset nicely by a front door covered with a layer of anodised aluminium. There isn't a great deal of flair, and Antec offers no option for windowed side panels or anything of that sort, but it's a perfect match for users wanting high-end performance in a chassis that isn't dressed up to look like a transformer.
Antec has taken a classier approach, and while the P280 succeeds in providing understated elegance, it is a little on the large side. At 526mm x 231mm x 562mm in size, it's slightly bigger than your average mid-tower - hence Antec's "super mid-tower" moniker - and it tips the scales at just over 10kg.
We quite like the exterior looks, and we appreciate the fact that Antec has put some thought into button placement. The stylishly-recessed power and reset buttons sit in the roof of the chassis (as opposed to being tucked behind the door) and are easy to access, as are the USB ports that line the front edge. Like many manufacturers, Antec has opted to eschew FireWire and eSATA in favour of USB 3.0, and two of the SuperSpeed connectors are available alongside two standard USB 2.0 ports and a pair of audio jacks.
Toward the back, the P280 offers two upward-facing 120mm fans and a 120mm rear exhaust. The chassis does offer four front intake mounts, but Antec surprisingly chooses not to occupy any of them. By default, the chassis comes equipped with rear and top exhausts only, and all three pre-equipped fans are connected to an integrated fan controller hub. As pictured above, the hub offers two-way speed controls for each of the fans; you can choose from high or low speeds.
There doesn't appear to be much else to make note of in terms of external features, but there are a few subtle surprises. For instance, Antec's steel side panels are coated with a layer of noise-dampening polycarbonate, and, for the same effect, the front door is lined with a sheet of foam.
Elsewhere, the PSU dust filter pulls out to the side for easy access, another pop-out filter sits behind the front door, and the rubber feet adorning the bottom of the chassis should further help reduce vibration. The P280 is promising a good blend of high-performance computing with minimal noise, but Antec's attention to detail isn't as thorough as it might have been.
The top fan mounts are limited to 120mm in size, so there's no support for 280mm radiators, and the plastic front door doesn't match the quality of the rest of the case - it feels too light and flexes quite easily - though, to Antec's credit, it does swing open a full 270 degrees. And what's the best way to spoil an all-black enclosure? Litter it with silver screws, and in the P280 there are plenty of them. A shame, really, as the frequent spots of shiny silver detract from an otherwise subtle black.
[Update] It seems Antec agrees, as the company has told HEXUS that it will "gladly send any customer requesting the black screws a set if they give us a ring," and adds that "in future runs of the product (after first shipment) the silver screws will be changed to black during production."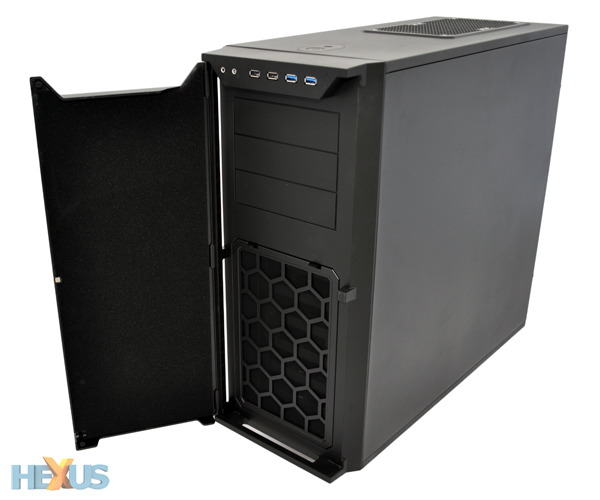 Our criticisms are minor - and Antec is already addressing some of them - but there's no denying the P280 is a smart-looking enclosure. We'd be lying if we said we weren't itching to see what it can do, so let's open her up and find out.