Introduction
What constitutes a perfect chassis? Different readers will have different opinions, but for many of the HEXUS staff, the perfect chassis would be one that's not too big, not too brash and not too loud.
That criteria would explain why we've taken a liking to one of Antec's latest efforts, the SOLO II.
Launched as part of the long-standing Sonata line and priced at just under £90, the SOLO II is said to "emphasise quiet computing" and touts a "new set of attractive, practical features."
Sounds ideal and it's presented in a manner that has widespread appeal, too. The glossy piano-black steel shell offers clean lines and an expanse of uninterrupted surfaces, resulting in a classy, minimalist look. The shiny finish suggests that it'll turn into a dust and fingerprint magnet further down the line, but right now, it's very attractive.
The chassis' uncluttered exterior doesn't leave a lot to talk about it, but it'll happily blend into most environments, and at 205mm x 440mm x 470mm in size it'll quite easily fit beneath a desk, too.
Simple and sleek would be the best way to describe it, and there are but a few outward elements worth making note of. Up top, there's a stylish black vent for a top-mounted power supply (more on that later), and up front, there are just two 5.25in optical drive bays. That's comfortably less than what's available from rival chassis, but a pair of 5.25in drive bays should be more than enough for most users.
The front I/O panel continues the keep-it-simple approach and provides four USB ports (two are of the 2.0 variety, two are SuperSpeed USB 3.0), headset and microphone jacks, a small hard-disk activity LED, a large power button and a neatly-recessed reset switch. There's nothing out of the ordinary here, but it's all presented with a sense of style and sophistication that gives the entire chassis a real quality feel.
And that quality feel isn't only a result of the sleek aesthetics. Antec's made use of sturdy 1mm-thick steel side panels with an added polycarbonate layer for soundproofing, and they attach tidily to an all-black steel frame. The front, meanwhile, consists of a plastic backing covered with a smooth anodised aluminium layer. The combination of the materials used give the enclosure a reassuring weight of 9.1kg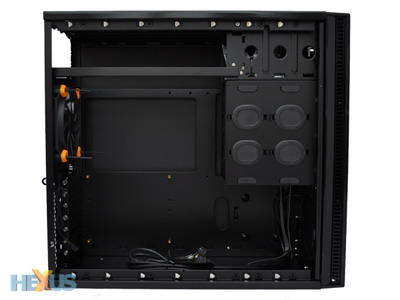 There's not a lot to fault in terms of build quality and exterior design, but it's the SOLO II's interior that may raise a few question marks.
Considering the £90 asking price, you'd expect this mid-tower solution to offer a wealth of high-end features, but that isn't necessarily so. To begin with, there are only three storage bays, all configured in a single, non-removable cage. The three bays can be used to house your choice of 3.5in or 2.5in drives, and if you're wanting to minimise hard-disk noise, the cage can be configured to hold two suspension-mounted 3.5in disks instead.
The attention to low-noise operation is welcome, but a maximum of three 3.5in storage bays isn't a lot, and neither is the number of bundled fans. Right out of the box, the SOLO II provides just a single, two-speed 120mm rear exhaust - though, to be fair, it is an Antec TrueQuiet fan worth £8 on its own. Still, a single fan doesn't suggest lots of airflow, and there's no dedicated hard-disk cooling as standard. Should you require full front-to-back airflow, there are a further two 120mm fan mounts up front, but there's no room for a radiator or anything of that sort.
Then there's the top-mounted power supply. The positioning isn't optimum for performance (the PSU sits above all the rising hot air), but it does allow for a neat arrangement below. By using only a single hard-disk cage, the bottom of the chassis is free of obstructions and able to accommodate long graphics cards measuring anywhere up to 452mm in length.
Some interesting compromises, but the chassis doesn't feel particularly roomy and it can be tricky to worth.