Introduction
NZXT may have arrived on the tech scene as recently as 2004, but in a relatively short space of time the manufacturer has built up a sizeable catalogue of chassis designed primarily for "hardware enthusiasts and gamers".
The company's steady rise to fame suggests that its chassis are ready to lock horns with the more established names, and to find out if that's true, we're taking a look at one of NZXT's latest creations: the Tempest 410 Elite.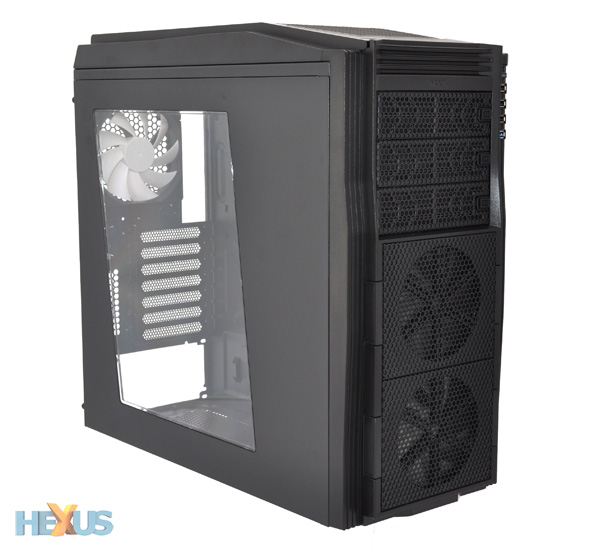 Scheduled to arrive at UK stores this October with a £69.99 price tag, the Tempest 410 Elite is a mid-tower solution that cries out to the stereotypical gamer. It's not too pricey, it's big on features, and it looks particularly angry.
The jagged edges and mesh panels all appear to grin mischievously to the user, but the same plastic moulds also diminish any sense of sophistication and refinement. Though, perhaps that's the idea?
Underneath the overly-brash skin lies a well-constructed black steel frame that's capable of housing a suitably high-end system. Trotting through the feature list, you'll find almost everything a budding enthusiast requires - including a windowed side panel, support for up to six fans, three external 5.25in drive bays, a massive eight internal 3.5/2.5in storage bays, seven expansion slots, integrated USB 3.0 connectivity and dedicated space for a dual 240mm liquid-cooling radiator.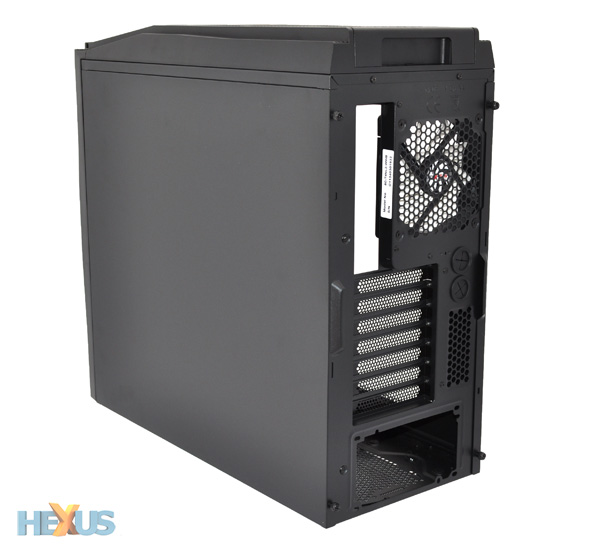 A healthy feature set, but only three of the six fan slots are occupied right out of the box. NZXT provides the two 120mm front intakes and a single 120mm rear exhaust, while users wanting to expand on that will find further room for a 120mm bottom intake and two 120mm/140mm top exhausts.
If that just won't do, there's also a non-Elite version of the Tempest 410 that'll eschew the side window in favour of a panel that accepts another two 120mm fans. You'll lose the ability to peer into the side of your PC, but in return, the standard Tempest 410 will offer greater cooling potential and more spare change - it's expected to cost a few pounds less than the Elite model we're taking a look at today.
Cooling performance shouldn't be a problem, and NZXT's taken a novel approach to fan integration. Up front, the Tempest 410's 120mm intakes are each described as "touch powered". They're not touch sensitive, as you might imagine, but they source power through a small conductive panel that needs only to touch an identical panel on the chassis' main body.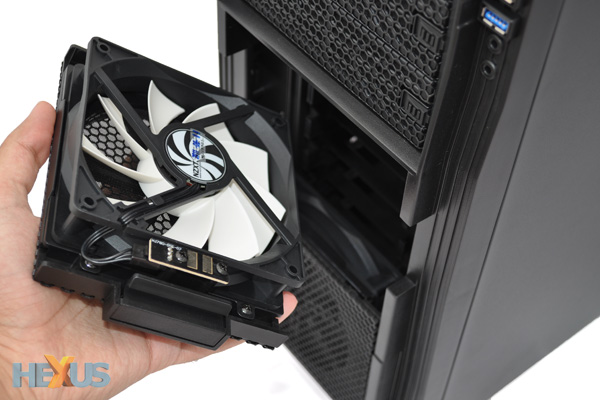 The fan unit itself is consequently wireless and easily detached from the chassis' front face. Removing the fans provides access to the internal hard-disk bays, but it also makes them easy to clean and each is equipped with a pull-out filter.
Pop-out fans are something we could definitely get used too, and if you're serious about your cooling, you'll appreciate the Tempest 410's other provisions, too. Up top, a large mesh panel is easily removed to reveal access to a pair of gaping holes that are designed to accommodate either a pair of 120mm or 140mm fans.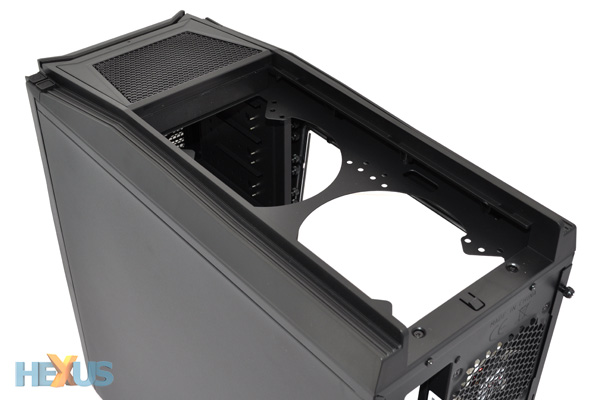 There's plenty of room for a 240mm radiator up here, but the sky's not the limit. We were able to comfortably install Corsair's 240mm Hydro H100, but due to space constraints, we had to install the radiator on top and its associated fans inside.
If you're hoping to add four fans in a push-pull configuration, you may struggle - there's just under 50mm of space in the top cavern, and that's not quite enough to be able to squeeze in a H100 plus fans without fouling the mesh cover.
And there's another concern; if you aren't using the top section for added cooling, you're left with a mesh-covered hole that's unattractive and, as you'll see later in the review, detrimental to overall system noise.