Benchmarks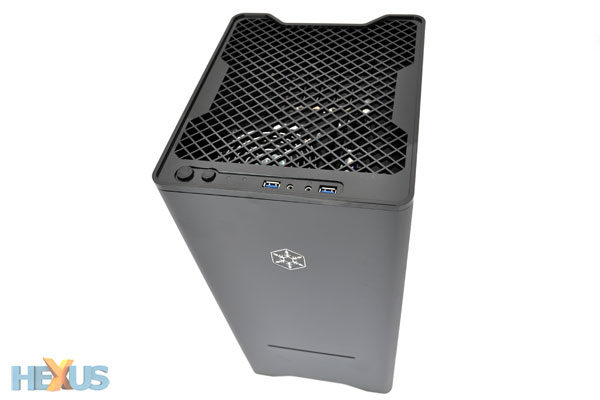 The Fortress FT03 is the first mATX chassis we've tested in a while, and we've loaded it up with a mid-range test system that includes an Intel Core i5-2500 processor and a discrete, factory-overclocked Inno 3D GeForce GTX 550 Ti graphics card.
To see how well the chassis can cool these integral system components, we record CPU temperature first when the system is idle, and then following a 15-minute stint of the Prime95 stress test. Similarly, GPU temperature is also recorded when idle and after 15 minutes of GPU-busting Furmark.
The high load of the respective stress tests represents a worst case scenario, and gives us an idea of the chassis' maximum cooling capacity. During testing, each chassis is configured only with its standard manufacturer-supplied fans, and all fans are set to operate at their default speed. In order to take into account the fluctuating ambient temperature, our graphs depict the delta temperature - that's actual CPU/GPU temperature minus the ambient. Just so we're clear, room temperature at the start of testing was recorded for each chassis as follows:
Corsair Carbide Series 400R - 21.4ºC
SilverStone Fortress FT03 - 23.6ºC
Here's a detailed breakdown of the chassis tested, as well as a complete list of our test system components:
Comparison Chassis

Corsair Carbide Series 400R
SilverStone Fortress FT03
Case type
Mid-tower
Fortress(?)
Dimensions (W x H x D)
206mm x 503mm x 521mm
235mm x 487mm x 284mm
Weight
7.07kg
6.7kg
Available colours
Black
Black or Silver
Base material
Steel structure with molded plastic accents
Steel structure with aluminium outer shell
Motherboard support
Micro ATX, ATX
Micro ATX, Mini-DTX, Mini-ITX
5.25in drive bays
4
1 (slimline)
3.5in / 2.5in drive bays
6x internal 3.5in/2.5in

2x internal 3.5in
1x internal 2.5in
1x external hot-swap 3.5in

I/O panel
USB 3.0 x2
FireWire x1
Audio x1
Mic x1
USB 3.0 x2
Audio x1
Mic x1
Expansion slots
8
4
Supplied fans
2 x 120mm (front)
1 x 120mm (rear)
2 x 120mm intake (bottom)
1 x 120mm exhaust (top)
Power supply
ATX (not supplied)
ATX (not supplied)
Approx. Price
£90
£110
System Configuration

Motherboard
Intel DH67BL
CPU
Intel Core-i5 2500
CPU heatsink/fan
Intel reference (E97378-001)
Memory
8GB (2 x 4GB) Corsair Vengeance DDR3
Graphics card
Inno3D GeForce GTX 550 Ti OC
Power supply
Corsair Builder Series CX430
Storage
Corsair Force Series 3 SSD
Thermal performance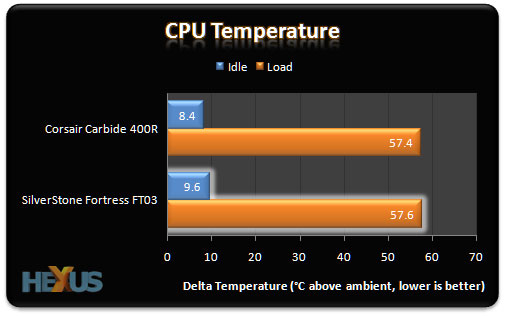 There's no drama as far as CPU temperature is concerned - the Fortress FT03 does an excellent job of keeping our 3.3GHz Core i5-2500 processor running cool under load.
Both the compact Fortress FT03 and the mid-tower Carbide 400R are closely matched in this benchmark, but credit where it's due, SilverStone's unorthodox tower manages to keep actual load temperature under 80ºC.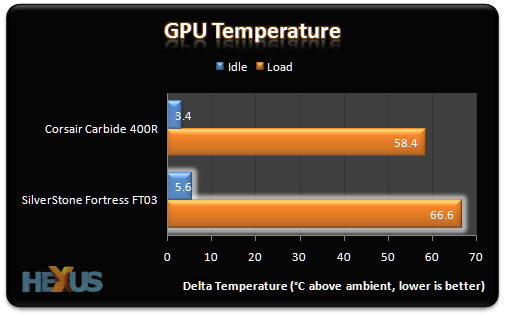 Our GPU tests deliver different results, but these come with a proviso. SilverStone recommends that users of the Fortress FT03 adopt a graphics card that exhausts heat through the top of the chassis, but our Inno3D card - despite its meaty heatsink - blows out to the side in a manner that's counterproductive to the FT03's airflow.
With this particular configuration, both the Fortress FT03 and Carbide 400R are able to maintain an idle GPU temperature of 27ºC, but the gap widens with increased load. After 15 minutes of Furmark, the larger, mid-tower Carbide 400R manages to keep GPU temperature comfortable lower than the Fortress FT03.
Noise
To find out how loud the Fortress FT03 can get we're using a PCE-318 noise meter placed three metres from the front of each chassis to take decibel readings while the system is idle.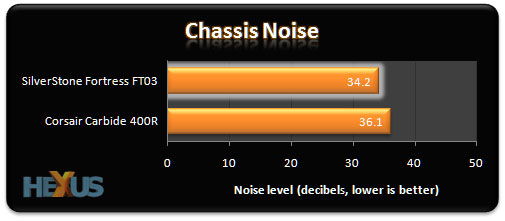 A decibel reading of 34.2 isn't particularly loud, but the chassis's fans are clearly audible and emit a constant hum that some users may find distracting. There's an expectation for mATX builds to be quieter than average, but the Fortress FT03 doesn't quite live up to that assumption. If you're planning a quiet build, you may want to consider adding a fan controller.