Introduction
There's something inherently appealing about small-form-factor computing. Be it smartphones, tablets, ultra-thin notebooks or slimline desktop PCs, we've developed a desire to see high-performance components crammed into the smallest possible space.
In terms of desktop computers, that desire is largely fulfilled by the micro-ATX form factor. Introduced in 1997 as a low-cost, low-power office solution, the mATX form factor has today transformed into an increasingly popular platform for enthusiast PCs. After all, if you can get the power of today's latest hardware in a space-saving format, why wouldn't you?
Well, generally speaking, the restriction tends to be cooling performance - you could put a couple of rip-roaring graphics cards in a shoe box, but good luck preventing the fire. What you need in order to make a high-performance mATX build function as intended is an accompanying mATX chassis with decent airflow and enough room to house some seriously meaty components.
There are plenty such solutions on the market, and we'll be taking a close look at a broad selection in the coming weeks, but we're starting today with the one that truly stands out: SilverStone's Fortress FT03.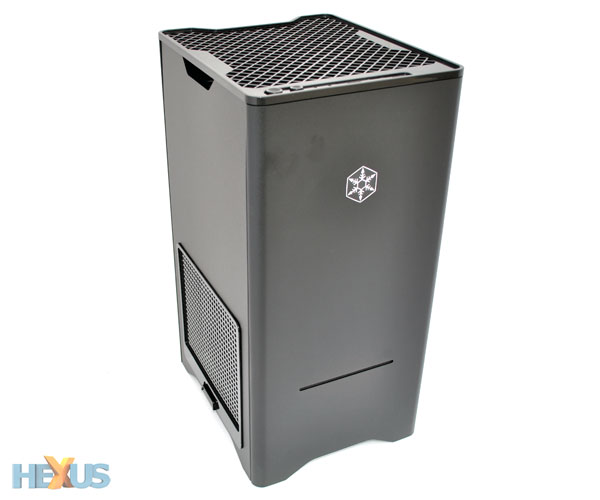 Priced at around £110 and standing 487mm tall and 235mm wide, this lovely-looking "Fortress" isn't noticeably shorter or thinner than the average mid-tower PC, but it is considerably less deep - measuring just 284mm from front to back.
It's an unusual form factor, and the unorthodox approach is extended throughout the chassis. Going against the grain, the Fortress FT03 opts to keep a user's components vertically orientated - hence the tall frame - with airflow directed from bottom to top as opposed to the conventional front to back.
Encouraging hot air to take its natural route makes sense, and the chassis' unique approach has plenty of appeal. Unlike the majority of competing enclosures, the FT03 isn't just another black box touting the same internal layout with a few minor tweaks. It's an innovative and unusual approach to chassis design - and it's decidedly sexy, too. After all, aren't unique, eye-catching results the reason so many of us opt to self-build in the first place?
Adopting a tall, column-like stance, the Fortress FT03's demeanour exudes a confidence rarely seen in mATX chassis and will have punters queuing up to buy based on beauty alone. And what a beauty it is. Holding true to SilverStone's usual high standards, the exterior frame consists of four large aluminium panels that connect around a steel internal structure. There's little to disrupt the clean flow of smooth, black aluminium, and the chassis' front face is adorned only with a SilverStone logo and an optical-drive slot. Sleek, smooth and different are the superlatives we'd use to sum up our first impressions.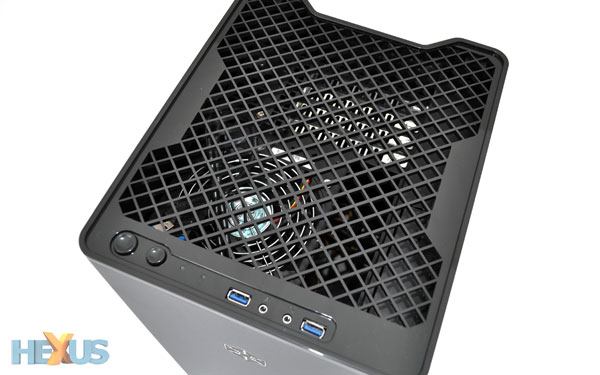 Up top, a large plastic grill covers the rear of the motherboard, and it's easily removable to allow for quick access to the board's IO panel. It's handy having access to all of your system's key ports without having to reach around the back, and cable clutter is dealt with reasonably, too. The system's power cable is routed out from the bottom of the tower, and any cables connected to the top - including display and peripheral - can be routed through an opening to the rear of the plastic grill.
Ensuring that users need not remove the entire top panel when connecting the occasional pen drive, the chassis' top edge also houses a pair of SuperSpeed USB 3.0 ports, audio and microphone jacks, and the customary power and reset buttons.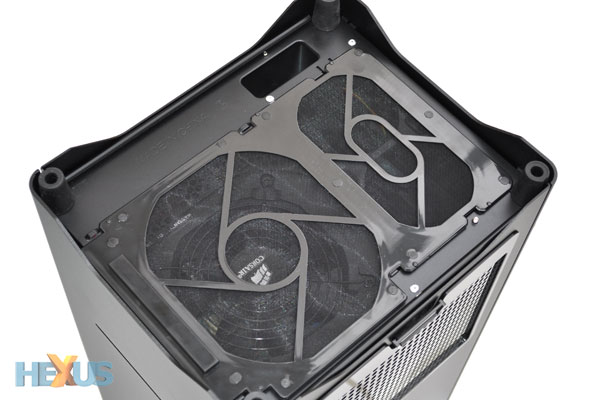 There are further novelties toward the base of the unit. Down here, a removable dust filter is magnetically attached to the underside of the tower, and a perforated plastic vent/access panel is found on the chassis' left side.
It's all tidily done, and it makes you believe that the 90º rotation of system hardware can work, but the Fortress FT03 isn't without its faults. While the aluminium shell is mostly delectable, it's somewhat tarnished by the cheap-looking plastic crown and the awkward vent in the left side panel. This is one of the most expensive mATX chassis on the market, and its price tag suggests that the vent should constitute an aluminium panel with neatly drilled holes as opposed to a plastic insert. There are also issues with alignment - while each panel feels sturdy and well built, the chassis' jigsaw-like frame struggles to properly align and there are visible gaps between panels.
Where there's good, there's bad, and a perfect example of that would be the way in which the Fortress FT03's internal cavern is accessed. The chassis' plastic top lifts off with a gentle pull, the aluminium side panels lift up and out, and the aluminium front clips off easily, too. Great for access, but none of these panels are lockable, and that makes transportation a little tricky - lift the chassis the wrong way, and the Fortress will literally crumble into half-a-dozen parts.
Yet in a weird sort of way, these foibles somehow serve to enhance the appeal of the FT03. It feels very much like a prototype, or a crazed experiment to which the outcome remains uncertain, and that makes it a lot of fun to work with.