Introduction
We've tested a wide range of high-end chassis in recent months, ranging from the weird, to the intriguing, to the jaw-droppingly beautiful, and they've all had one thing in common: they're a little noisier than we'd like.
Perhaps it's a sign of the increasing average age of the HEXUS editorial team, but we're growing particularly partial to a quiet computing experience, so we're momentarily turning our attention away from the industry's wide range of rip-roaring enclosures and onto the more refined Cooler Master Silencio 550.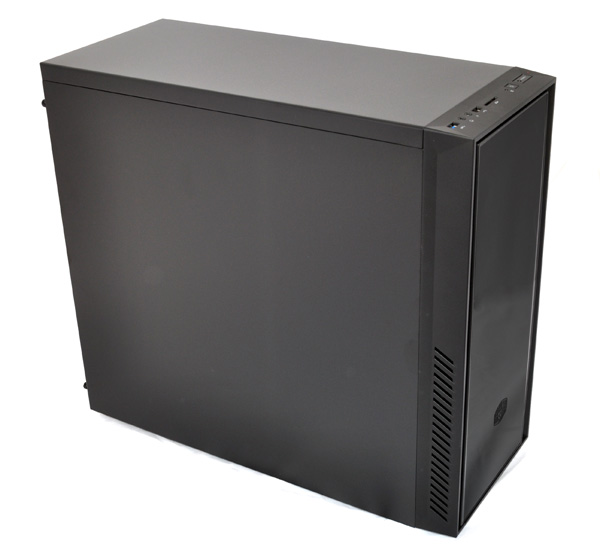 Described as "near silent" and "prepared to take on powerful hardware", this mid-tower enclosure appears to tick many of the right boxes for the more discerning PC user. Finished completely in black, the 210mm x 416mm x 505mm frame is subtle-yet-sophisticated and there's a medley of enticing features littered throughout. These include an SD card reader, USB 3.0 connectivity, a hot-swappable 3.5in drive bay, and enough sound proofing to purportedly "keep high-end setups running cool and quiet".
Apply a price tag of just under £65, and it all appears to be too good to be true. Let's find out if it is.
Design
Enclosures designed with silence in mind tend not to look outwardly loud, and the Silencio 550 is no exception. The matte-black steel body sticks to smooth, clean lines and while it's not particularly eye-catching, the glossy-black plastic front door does help apply just a hint of elegance. It can become a magnet for both dust and fingerprints, but if you're looking for a chassis that's not at all brash, the Silencio 550 fits the bill.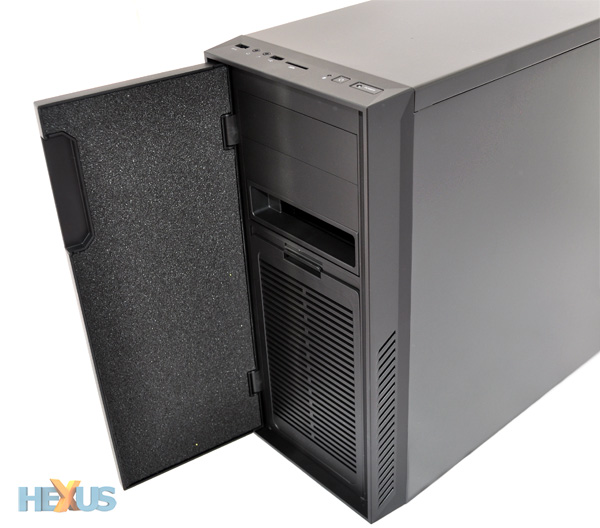 Flip the front panel open from left to right (note that the door orientation can't be reversed) and you begin to unravel some of the chassis' hidden features. In addition to the sound-dampening foam that lines the inside of the door, you're greeted by two 5.25in optical drive bays and a third that arrives pre-configured as a useful hot-swap bay for 3.5in hard disks. The 3.5in converter - which Cooler Master calls the X-Dock - can be easily removed if you need the third optical drive bay, or relocated further up the chassis for easier access.
Below the exterior drive bays, a removable dust filter provides a look at a front-mounted 120mm intake fan. Cooler Master ships the chassis with only one other fan - a 120mm rear exhaust - and both are designed to operate at quiet speeds of up to 800RPM. The idea of course is near-silent operation, but as we'll show later in the review, that goal is met with below-average airflow. And, if cooling potential is your primary concern, you may want to look elsewhere as the Silencio 550 only provisions for one upgrade - the addition of a second 120mm front intake.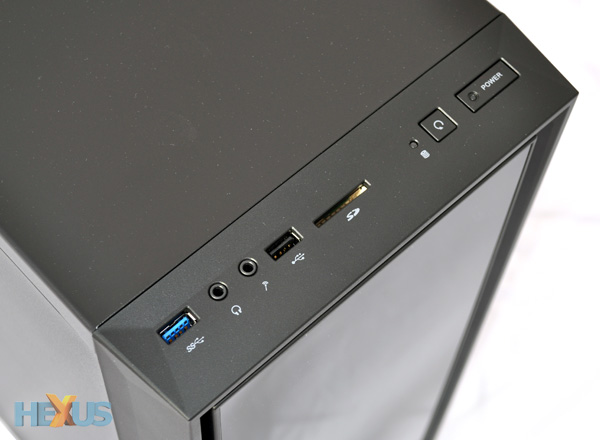 The chiseled look of the chassis' top edge is a nice touch, and it's equipped with a useful array of I/O ports. Working from the left, we have a single USB 3.0 port, headset and microphone audio jacks, a single USB 2.0 port, an SD card reader, followed by reset and power buttons. Both buttons have a satisfying spring about them, and the entire section's matte finish feels lovely to the touch.
If we were being pernickety, we'd add that the power button's blue LED is a touch too bright - and detracts from the otherwise clean look - but outwardly there's little to fault. The Silencio 550 looks simple, sleek and modern, and by offering front-facing USB 3.0, SD Card and 3.5in hard disk connectivity, it should fulfill most users' storage needs.
The Interior
Pleasant would probably be the one word we'd use to describe the exterior of the Silencio 550, and the same adjective can be applied to the interior.
The expanse of black continues throughout the internal cavity, and though there's nothing revolutionary here, the Silencio 550's assortment of features combine to create a chassis that's easy to work with.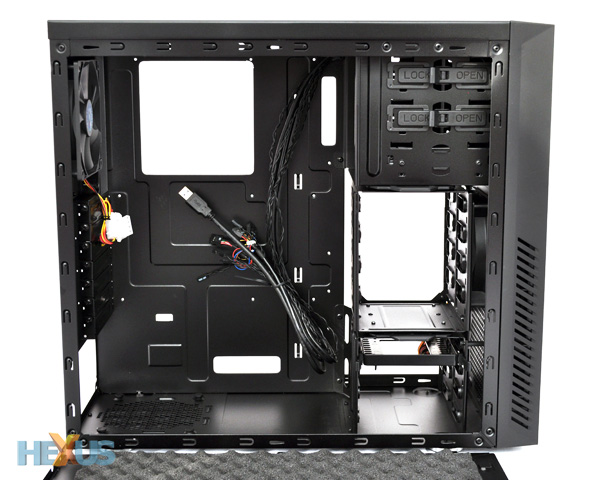 Though the frame isn't the biggest, there's plenty of room to manoeuvre with mATX or ATX motherboards, and build quality feels good throughout. There's room for a bottom-mounted power supply (with pull-out dust filter and rubber standoffs), a pair of tool-free optical-drive mounts, a total of seven tool-free 3.5in hard-disk mounts split across two cages, and a single 3.5in-to-2.5in bay converter.
The upper drive cage can be removed to make way for extra-long graphics cards measuring in excess of 281mm, there's a sizeable cutout in the motherboard tray for CPU cooler installation and Cooler Master's documentation suggests that CPU coolers standing up to 154mm in height will fit in with ease.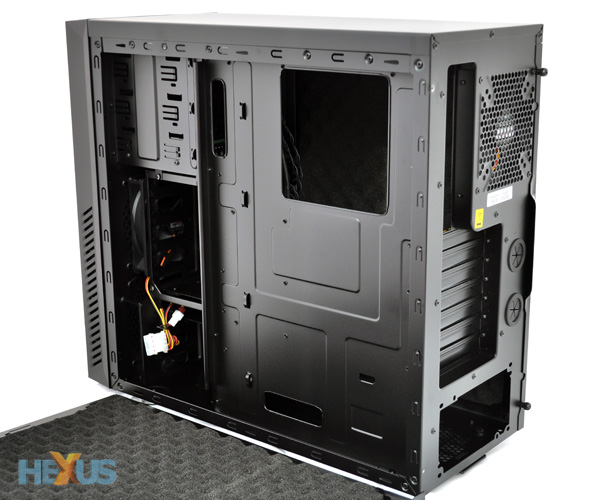 Around the back, there are just four cutouts for cable management - one at the bottom of the motherboard tray, one to the left and two up top - but their positioning makes it fairly easy to maintain a clean-looking build. We were able to install our high-end Intel X58 test system with ease, and ran into only one niggling issue; there's a good amount of room between the tray and the rear side panel, but a portion of that is taken up by the sound-proofing material. Getting all your cables squeezed in can be a struggle.
Overall, the Silencio 550 provides everything you'd expect from a mid-range chassis, but what sets it apart is its quiet ambition. Following on from the sound-proofed front door and the rubberised PSU mount, each side panel is covered almost completely in a thick layer of sound-dampening foam, and there's a touch of rubber on each hard-disk mount, too. Factor in the four large rubber feet on the base of the chassis, and you're left with a solution that does reduce system noise - though, as we're about to find out, at the expense of cooling performance.