The belly of the beast
Remember the way in which Level 10's multiple compartments clicked open to reveal access to all those intricate areas? Well, the GT is a whole lot less flamboyant - it features merely a single steel door that swings open to provide access to the main compartment.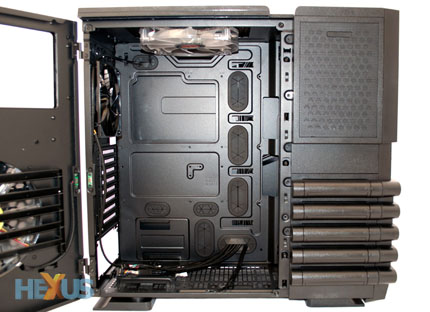 It isn't as visually striking, but it's easy to work with and there's plenty of room inside - CPU coolers measuring up to 190mm in height are supported, as are graphics cards measuring up to 360mm in length.
The door itself is opened by a spring-loaded button that's hidden neatly on its bottom edge, and in the interests of security it too can be locked to prevent unwanted access. It's these little touches that help the Level 10 GT stand out, and there are plenty of them.
The side-mounted 200mm fan features adjustable fins to help direct airflow, cabling for all the fans is neatly pre-routed and requires connection to only a single molex connector, there are eight holes surrounded by rubber grommets to help with cable management, the motherboard tray provides a large cutout for easy CPU installation, there's a removable filter beneath the power supply rack and mounting holes for mATX, ATX or eATX mainboards are easy to identify.
Heck, even the chassis' four plastic feet can be rotated to your liking, and if you reckon that's wasted space on the side of the 5.25in drives, you're wrong. Thermaltake's bundle includes a headset holder that attaches neatly to the free space - it's quirky, but kinda fun, too.
And if it's cooling potential you're after, there's plenty of it. The Level 10 GT ships with the aforementioned 200mm side intake, a 200mm front intake that sits to the front of the hot-swappable hard-disk bays, a 140mm rear exhaust and a 200mm top exhaust. The quartet of fans should be more than sufficient for most users, but if you demand extra an optional fifth 120mm fan can be mounted to the bottom of the chassis alongside the power supply, or the 200mm top exhaust can be swapped out in favour of a 120mm x 240mm liquid-cooled radiator.
Users can choose between two preset fan speeds - low or high - and neither are annoyingly loud. With the fans set to low speed, the chassis generates little more than an audible hum. Cranking up to high speed raises the noise level but it isn't loud enough to detract from a session of gaming. And if you're known to hang around gaming circles, you might appreciate the Colourshift LEDs built into the chassis' three 200mm fans. A control button mounted on the top I/O panel lets you choose between red, blue, green or mixed colour modes, and if it isn't your thing, you can turn off the light show completely.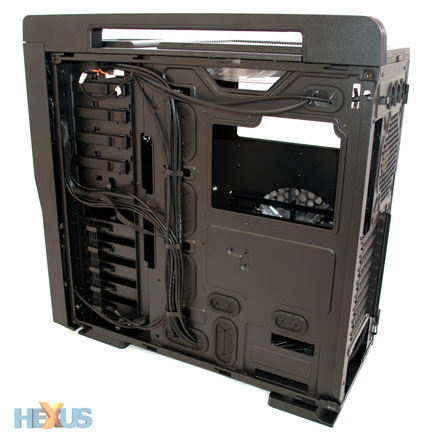 With the back panel removed, you can see that cable routing is well catered for. We like that the large angled cutouts make it easy to route cables out to the rear of the chassis and then back in through the rubber-grommeted holes. Thermaltake also provides lengthy cables for the front I/O ports, making it easy to route the two top-mounted SuperSpeed USB 3.0 ports to connectors on the rear of your motherboard if need be.
All four 5.25in optical bays are tool free thanks to a click-and-lock mechanism, and there's enough space between the motherboard tray and side panel to squeeze in a decent amount of cabling.
The chassis' main compartment isn't quite as cavernous as say a Corsair Obsidian Series 800D, but we had no trouble getting our high-end test bed installed (fairly) neatly.