Introduction
Like the look of last year's NZXT H500i but wish it came with forward-looking USB Type-C? You're in luck, as the California-based outfit has refreshed its entire H-Series product line with updated models. At the top of the mid-tower stack is the H510 Elite, in for review today.
This is a handsome enclosure, of that there's no doubt, but the first thing to catch our attention is the lofty £150 price tag. Such a premium is reflected in the various bits of eye candy. The front of the chassis is lined with tempered glass that matches the side, you get dual Aer RGB 2 140mm intake fans (in addition to the two exhausts) for added effect, and there's also an addressable LED strip included as standard. The fans and lighting are attached to an integrated Smart Device V2 for software control via NZXT's own CAM utility, but here's the thing; if lighting and third-party software isn't your thing, there are more affordable H510 models that are worth pointing out.
The £110 H510i, for example, loses the RGB fans and glass frontage, yet retains the smart controller and two LED strips. Prefer to have your fans and lighting controlled by your motherboard? Then the regular H510, shipped with no LED strips, no controller, and no support for vertical graphics mounting, can be yours for just £75. I appreciate a little extra glass and some RGB as much as the next fellow, but the standard H510 would be my first choice, with the money saved being redistributed to another part of the build.
Whichever model you go for, there is a choice of matte black (pictured) or matte white colour schemes, and each variant utilises the same underlying steel frame. When it comes to layout, not a great deal has changed over last year's H500, though that's not necessarily a bad thing. NZXT's 210mm (W) x 460mm (H) x 428mm (D) frame remains suitably compact for a tower supporting either a Mini-, Micro- or Standard-ATX board, and the tidy, uncluttered exterior makes it, in our estimation, one of the sleeker enclosures in its class.
We'd liked to have seen NZXT add a second fan-mount to the roof of the chassis, and a top filter wouldn't go amiss, but what has changed is the streamlined I/O panel lining the top-front edge. We're delighted to see a USB 3.1 Gen 2 Type-C port featured as standard on all variants of the H510, however its inclusion is offset by a sparse selection of just one USB 3.1 Gen 1 Type-A and a combination audio jack alongside the power button. There's no reset button, and as a frequent user of multiple USB devices, I'd much prefer at least two Type-A ports alongside the newer Type-C. As it stands, the chassis occupies a pair of motherboard USB headers for just the two front-facing USB ports.
In terms of key changes, that's pretty much your lot. As before, the chassis provides a 7+2 PCIe arrangement, the power supply compartment is fully covered with a dual-bay 3.5in drive cage at one end, there are two 2.5in SSD bays attached to the rear of the motherboard tray, and NZXT continues to employ a plastic cable-routing tray outfitted with Velcro straps and a handful of removable filters. We like the fact that the front panel connector is a single header compatible with most modern motherboards (a splitter is included in the bundle just in case), however wiring can become a little messy due to the SATA-powered smart device and various RGB elements, and we're amazed the hard-disk cage still doesn't come with removable trays. You need to remove the entire cage and fix any drives manually, plus there's no rubber dampening, either on the drive cage or the PSU mount.
Elsewhere, NZXT's latest smart device is said to feature a faster processor and provides a built-in noise detection module, as well as three 10W fan channels and two RGB channels, each supporting either four HUE 2 addressable LED strips or five Aer RGB 2 fans. It is interesting to note that at launch, NZXT shipped the chassis with three bundled fans; two 140mm Aer RGB 2 intakes, and a 120mm Aer F exhaust. Presumably in response to user feedback, NZXT has since decided to add a 140mm top exhaust "to ensure our customers get the best performance possible out-of-the-box." Early adopters can claim the additional fan free of charge by contacting NZXT customer service.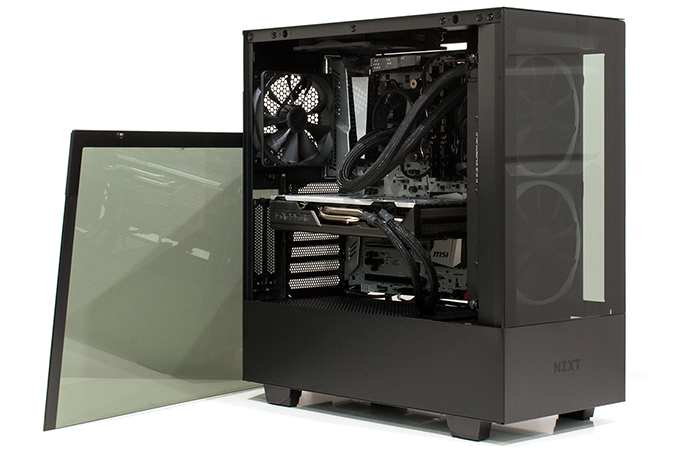 Our AMD Ryzen test platform looks very sleek inside the H510 Elite, though the build process isn't entirely free of niggles. While the tool-free radiator tray pulls out for ease of installation, the glass front fascia isn't quite as easy going and can only be removed by undoing a couple of small screws. In contrast, the large side window comes away after undoing a single thumb screw. What's more of a concern is component selection. Our test hardware has slotted into numerous chassis without any fuss, but despite offering up to 381mm of GPU clearance, 165mm of CPU cooler clearance and 19-23mm of space for cable management, the H510 Elite presented a couple of important choices.
Firstly, the fans from our Fractal liquid cooler didn't look as nice as the Aer RGB 2s in the front of the case, so we've made the unusual choice to pair the radiator with the supplied NZXT fans. That means the 140mm intakes are connected to the cooler, rather than the smart device, and we also found that the Fractal fans couldn't be utilised in a push/pull configuration due to the limited space between the radiator tray and the reservoir mount. The reservoir-mount can be removed if necessary, but doing so would leave a large gap and visible cables. Point is, with only the front of the case supporting a good-sized radiator, you'll need to choose your CPU cooler carefully.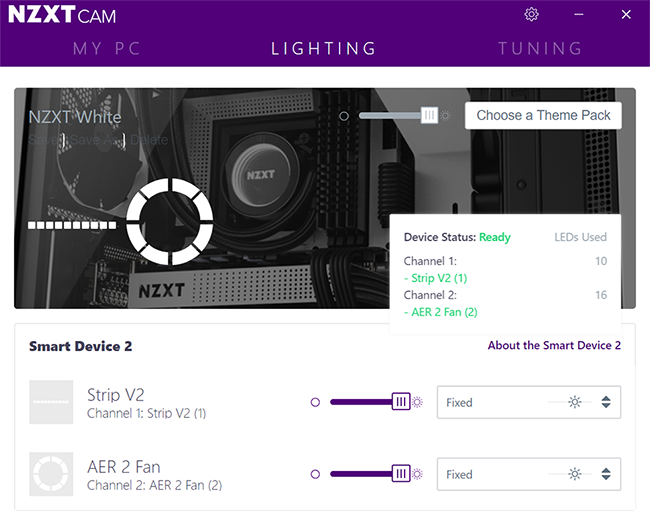 NZXT's hope is that the H510 Elite will be crammed with the company's own coolers and lighting paraphernalia. If that happens to be the case, the free-to-download CAM software utility does a fine job of synchronising lighting controls as well as providing fan profiles that include a 0dB mode for voltage-regulated or PWM fans. It all works well enough, yet we continue to feel more at ease with our fans controlled directly from motherboard headers. If you prefer not to install any software, note that the RGB lights are fixed to white in their default state.