Overview and specifications
First things first, this in one heavy brute - and bulky, too, at least while in its protective outer carton. Carrying it up flights of stairs is enough to give you a mild hernia - pity the poor courier. This steel beast weighs in at 17.5kg in the box - and 14.5kg out of it - but measures a pretty average 513(d) x 213(w) x 582(h) mm.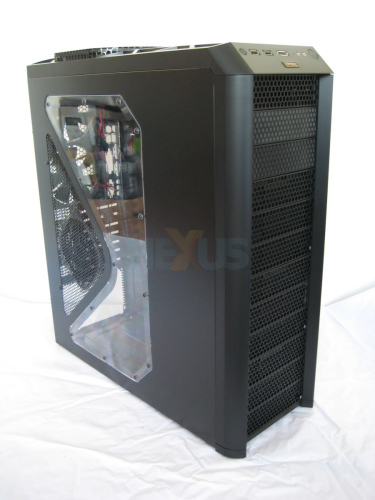 The first thing you notice about the external appearance of the Antec 1200 is that it's not merely a stretched version of its forerunner. There's clearly been a lot of thought go into how to improve on such a popular design.

Of course, the all-black finish hasn't changed - and there's still a very respectable cooling system under the hood - but there is definitely much more sense of organisation with the overall product. So let's go through the specifications before cracking on with this in-depth review.
Specifications
Specifications - Antec 1200
Dimensions
513(d) x 213(w) x 582(h) mm
Material
Steel and plastic
Weight
14.5kg
5.25in external
3 in default configuration
3.5in external
1 – uses 5.25" bay with enclosed bracket
3.5in internal
9 in default configuration
Expansion slots
Seven
System fans
3 x 120mm (front), 2 x 120mm (rear) and 1 x 200mm (top)
Water-cooling preparation
Yes
Model variants
One
Manufacturer code
TWELVE HUNDRED