The news



LaCie is set to introduce an

external Blu-ray Disc burner

in the UK later this month, despite the fact that it's not able to play protected BD movies. It's intended for use on Mac and Windows PCs with USB 2.0 or FireWire 400 connectivity and will be priced at £799 (inc VAT).



The company claims that the d2 Blu-ray Drive will be the first shipping pro external solution for the two platforms and says it records, rewrites and reads 25GB or 50GB BD-R (recordable) and BD-RE (rewritable) media, as well as DVD±RW DL and CD-RW.

But, although the unit comes with Blu-ray-Disc-compatible software for both operating systems - special versions of Roxio Easy Media Creator 8 for Windows and Roxio Toast 7 Titanium for Mac - it is

not

yet able to play commercial copy-protected Blu-ray Disc movies.

This, the company reckons, is because "requirements for protected HD video are not finalized yet" - so users should, "check for updates on www.lacie.com".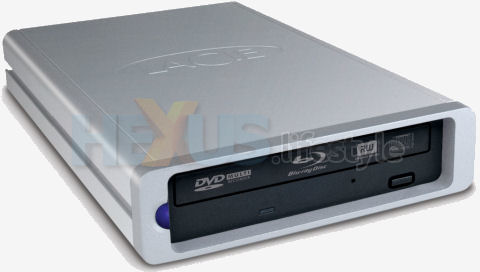 Four ports are fitted around the back of the aluminium-bodied case - one for power-in from the supplied separate mains adaptor, one for USB and two for FireWire 400 (IEEE 1394a).

For mastering and burning, the system requirements are said to be:


• Windows XP with the latest service pack or Mac OS 10.3.9
• A Pentium 4 Dual Core 3.0GHz processor or a Mac with a Power PC G4 or higher or Mac Intel Core Duo CPU
• 512MB of RAM (minimum)



Playback of

non-protected

Blu-ray HD movies is reckoned to require:


• An NVIDIA GeForce 6600GT or ATI X600 graphics processor unit
• A monitor with a resolution of at least 1280x1024 pixels



The bundled software consists of Toast 7.1.1 Titanium for Macs and two Windows apps - Easy Media Creator 8.2 and Cineplayer 3.4.

According to the LaCie's downloadable manual, the version of Cineplayer that's supplied is not BD-compatible - users will need to download BD Cineplayer from http://www.lacie.com/support/driver/dvd.

However, that URL wasn't working when we checked - the current place to look for all downloads relating to the d2 Blu-ray Drive seems to be http://www.lacie.com/support/support_manifest.htm.

No Mac BD player software is included either. The manual says, "Please check www.apple.com for the BD player release date".

LaCie is taking orders now for the d2 Blu-ray Drive on its online store, with shipment to the UK promised for late January. Resellers are expected to have stock towards the end of the month as well.

So, how does the d2 Blu-ray Drive appeal to you, especially in the light of its high price and lack of playback for commercial BD movies?

Let us know your thoughts in this thread in the HEXUS.lifestyle.news forum but make a point, first, of checking out the two press releases about the launch - LaCie's on page two, and Sonic's on page three.


HEXUS.links
HEXUS.community :: discussion thread about this article
HEXUS.lifestyle.headline :: AACS high-def-disc copy-protection cracked already?


External.links
LaCie - home page
LaCie online store - buying page for the d2 Blu-ray Drive
LaCie - downloads for the d2 Blu-ray Drive

Roxio - home page
Sonic Solutions - home page

Apple - home page