The Humble Bundlers have something different for us this time around. Instead of a themed collection of games, the latest bundle provides three tiers of PC utilities. The Humble team say they partnered up with tech site Lifehacker to create this new bundle, which would cost up to $315 otherwise.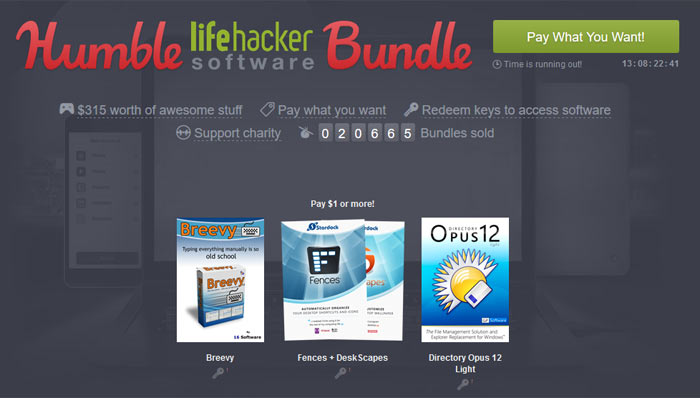 The Humble Lifehacker Software Bundle is, as regulars would expect, divided into three tiers. For a measly $1 entry fee you can acquire Breevy, Fences 3.0 + DeskScapes, and Directory Opus 12 Light. As an old-time Amiga user it's interesting to see Directory Opus by GPSoftware in this offer as it was many a miggy users' file manager of choice (However, I preferred the lighter DiskMaster2.)
Beating the average bundle payment price will net you another three valuable utilities. For a cent/penny or more than the current average price of $7.53 (about £6.16) you can acquire DisplayFusion (choice of Pro or Steam), a 1-year subscription to LastPass Premium for new users, and a 1-year subscription to CyberGhost VPN for new users.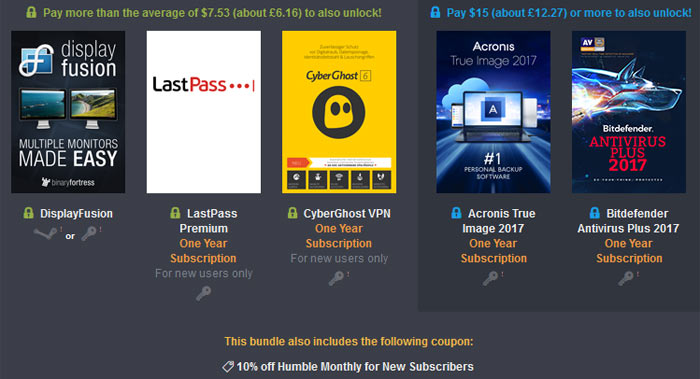 The top tier of the bundle costs $15 or more. For this sum you will add a couple of year-long subscriptions to the bundle, namely Acronis True Image 2017 and Bitdefender Antivirus Plus 2017.
All the utilities are said to be DRM-free (though some expire after a year) and some of the programs are available on platforms other than Windows. Remember you can divide your payment between the developers, charity and a Humble tip, as you wish. Charities featured this time are the Electronic Frontier Foundation and the Child's Play Charity. There are 13 and a half days remaining to grab this pay-what-you-want bundle.