Vulkan, an open standard API for high-efficiency access to graphics and compute, has emerged this year as the successor to OpenGL. It offers a unified specification that, like rival modern APIs such as Microsoft's DirectX 12 and Apple's METAL, "minimizes driver overhead and enables multi-threaded GPU command preparation for optimal graphics and compute performance," but it does so on a diverse range of mobile, desktop, console and embedded platforms.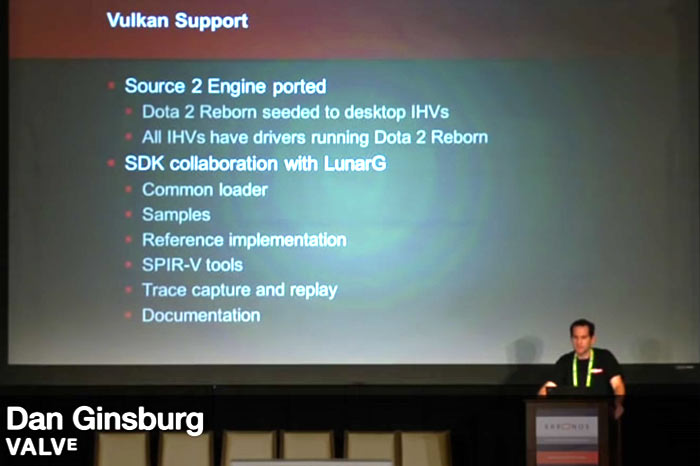 Valve has put its weight behind the Vulkan API and wants developers to consider using it rather than spending their time and resources making games with Microsoft DirectX 12 or Apple METAL.
Valve's Dan Ginsburg starts to talk at 1hr 40mins
In a recent video presentation from SIGGRAPH 2015 Valve's Dan Ginsburg took to the stage to put forward the case for Vulkan. In the video embedded above, Ginsburg asserts that Vulkan is "the right way forward for powering the next generation of games". Going on to mention rival API's specifically he said that "Unless you are aggressive enough to be shipping a DX12 game this year, I would argue that there is really not much reason to ever create a DX12 back end for your game". Ginsburg went on to say that Vulkan "offers so much more" than single vendor, single platform alternatives.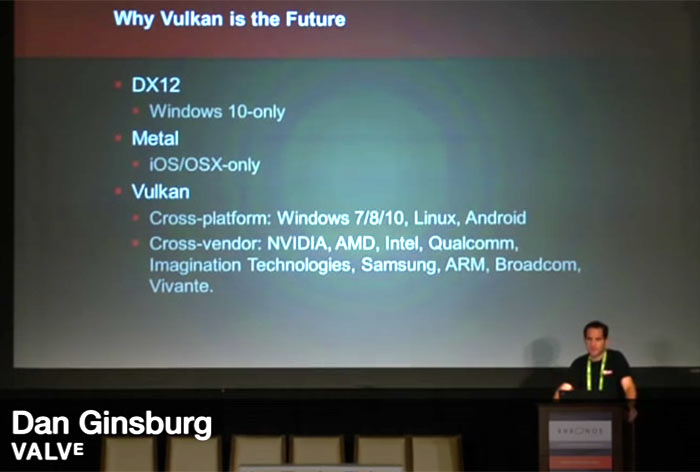 Back in September Intel demonstrated the significant benefits of the Vulkan API on one of its quad core processors with integrated graphics.
Nintendo latest to join the Vulkan fold
In related news Nintendo has joined the Khronos Group. As a member, Nintendo will be able to participate in the development of Vulkan. Imagination Technologies has already shown off a Mario themed demo with high-quality physically-based shading, correct specular reflections and more. Nintendo faced criticism for the graphical abilities of its previous Wii and Wii U consoles but Vulkan might help it pull ahead with its codenamed NX console.