Windows 8.1 overtook Windows XP in December 2014 according to StatCounter but now, for the first time, it has also pulled out in front of Windows XP in the Netmarketshare figures. At the time of writing Windows 8.1 is almost two years old. Interestingly, usage of the six year old Windows 7, which is way ahead of all other desktop OSes in the stats, also grew in June.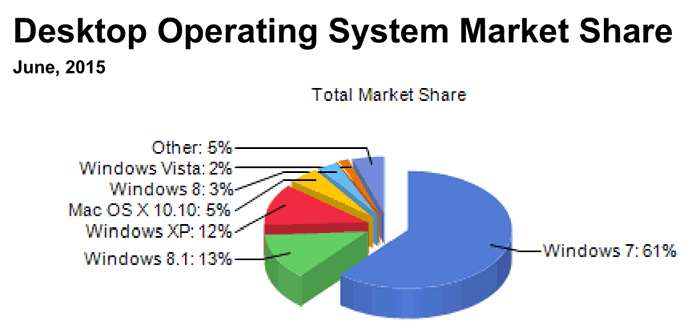 Both major desktop OS usage analysis companies agree for the first time that Windows 8.1 has pulled out ahead of Windows XP. According to the new results from Netmarketshare Windows 8.1 usage increased from 12.8 per cent in May to 13.1 per cent in June. Over the same period Windows XP usage fell quite significantly, from 14.6 per cent to 11.89 per cent. Windows XP extended support ended in April 2014 with anti-malware support tacked on for a further 15 months.
Meanwhile Windows 7 on the desktop continues to thrive. Even though this OS is six years old and Microsoft ended mainstream support for it in January this year, people are still clutching to this 'old favourite' with traditional Start Menu and mouse / keyboard centric UI design. (Microsoft's extended support for this OS will run until 14th Jan 2020.) From May to June 2015 Microsoft Windows 7 use grew from 57.7 per cent to 60.9 per cent.

Microsoft is using an unprecedented tactic to make its next OS a big success. For the first time ever it is offering current users of its desktop OSes free upgrades. While its language hasn't been that clear concerning exactly who will qualify for a free copy of Windows 10 in some cases, current Windows 7 and newer OS users (outside of enterprise) will definitely get a free upgrade – if they want. Perhaps this upgrade program has helped convince some holdout XP stalwarts to upgrade to Windows 7 and Windows 8.1 in recent weeks.
Overall Windows holds a 91 per cent share of the whole desktop OS market, Mac OS X holds 7.4 per cent and Linux only 1.6 per cent.