Microsoft has announced live webcast details for its Windows 10 media briefing in Seattle next week. The company is expected to discuss its ambitions and show off new features centring on the consumer-focused features of the operating system software. We also expect to see and hear the first details about Windows 10 for mobile devices.

Those following the development of the new Windows OS with interest should be happy to hear that Microsoft will be live streaming the Windows 10 event starting at 9 a.m. PT on 21 January. The stream will be hosted on a section of its site unveiled today, dedicated to the story of Windows 10. If you are unable to make the live cast, a video will be posted shortly afterwards for on-demand viewing.
A new build or Consumer Preview version of the upcoming Windows operating system is likely to be announced during the briefing and probably released shortly. Speakers at the event will include leaders from the Operating Systems Group - Terry Myerson, Joe Belfiore, Phil Spencer, and Microsoft's CEO Satya Nadella.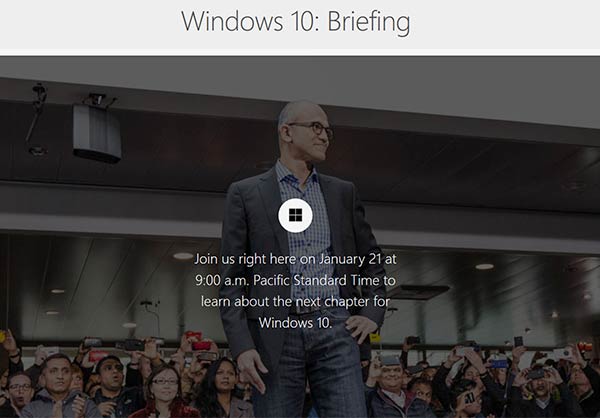 Registration for Build 2015
Microsoft has also announced this week that registration for its Build 2015 developer conference will open on 22 January at 9a.m. PT, the day after its Windows 10 briefing event.
This year's conference takes place in San Francisco's Moscone Center between 29 April and 1 May, and "will lay out how you can be the most productive and creative developer you can be and showcase the latest tools and technologies you'll be using to get it done," says Microsoft.
The three day event will include immersive presentations delivered by the engineers behind the firm's devices and services. Microsoft teases that some "fun surprises" are scheduled to happen.