Microsoft has started to roll out the first new build of Windows 10 Technical Preview to those in the Windows Insider Program. It's called Build 9860. This 2GB to 2.74GB update (depending upon your system config) will come along automatically via Windows Update as long as you are on an unmetered connection. If it's not started downloading for you yet just go to PC Settings, Update and recovery, Preview builds and click the Check Now button to prompt it to action.
While there are "nearly 7,000 improvements and fixes," in the Technical Preview, the most visible result of the update to Build 9860 is the appearance of a working 'Action Centre'. This is a notifications hub similar to that which appeared in Windows Phone 8.1. We are told you will be able to "see and follow up on all actionable items," in this app icon and text list which pops up from the system tray area. There is still a lot of work to do on the Action Centre and it will only work with basic notifications at this time. You can see an example of the Action Centre and its content in the image below. Microsoft says it will clean up the UI and add functionality in further updates.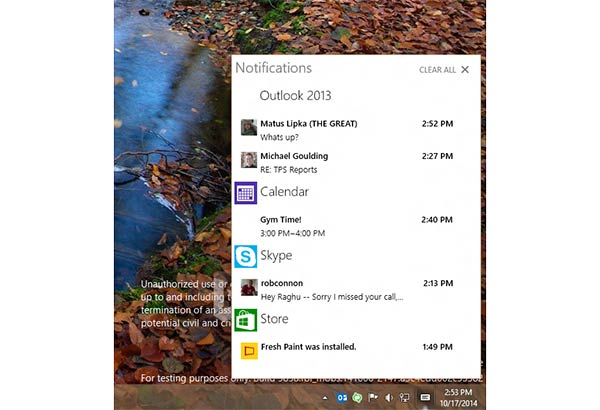 Another improvement is aimed at multiple monitor users. From now on such users will be able to easily move apps from one monitor to another using the keyboard shortcut WIN+SHIFT+<arrow>. A less important cosmetic change, highlighted by the Windows Blog, is the introduction of an animation to make it clear when you switch desktops. Users are told to create some new desktops and switch to see the effect.
Updaters are warned that the reboot following the update "will be longer than normal but don't worry." In the following couple of hours your system "will take some time to catch back up and you may see extra activity or things that don't quite work right," such as search indexing and One Drive syncing.

With this update comes a way to choose how fast you get the next available updates. Microsoft explains that in PC Settings, Update and recovery, Preview builds you will be able to choose from Windows Insiders Fast and Windows Insiders Slow updates. Those opting for slower updates should be buffered from the worst issues and glitches introduced with fresh new OS builds. A diagram, above, illustrates how the update 'ring' system works.