Another couple of videos of the Windows 9 Technical Preview trickled out over the weekend. They came from the same source as the Windows 9 Start Menu reveal and demonstration last week: German site WinFuture. This time around we got to see an action / notification centre, simply called 'Notifications', and the virtual desktop functionality we had heard about in previous news and rumours.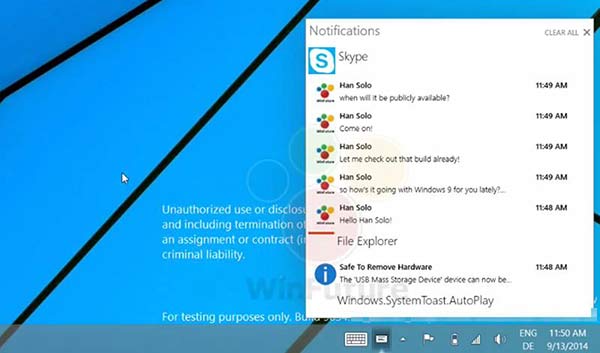 Notifications
Here Microsoft will give desktop Windows users something similar to what its mobile users recently received in the Windows Phone 8.1 update. The previous notification and actions alerts in Windows reminded you of things like Windows Update, Malware checks and Backups. Now it will take those kinds of notifications, including the very common 'Safe to remove hardware' and mix them in with notifications from apps including new mail, Skype messages and calendar appointments.
Previously those notification events came one at a time and went - without you easily tracking them if you forgot to attend to them at the time. Now they are listed in the Notifications popup which sits in the system tray. The list can have notifications removed individually or all at once.
Virtual desktops
Virtual desktops are created via an icon in the taskbar which looks like a pair of rectangles overlapping. Clicking this brings up your virtual workspaces and a way of creating new such workspaces and closing down ones you no longer require. We'd expect some keyboard shortcuts to help switch and manipulate the spaces put the video doesn't show that.
While in the virtual desktop mode applications open in each desktop space can be closed down as it shows the apps as tiles in this view. Once you switch to a desktop the tiled view becomes the meticulously arranged set of overlapping windows that you had left there.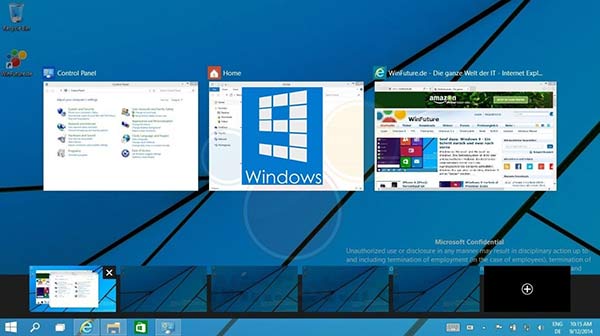 What do HEXUS readers think of the above pair of new features, very probably destined for Windows 9?