There's quite a lot of interesting chatter about features of the upcoming Windows 9 Threshold OS. It's not much longer than a month away until we will be able to download and test a developer preview of this OS on our x86 PC systems and more details seem to be leaking out. Particularly startling is WinBeta's assertion that Windows users will no longer get the choice between desktop and Modern UI in the latest OS. "You either have the desktop or you have the Modern UI, you cannot have both," says the Windows focussed blog.
So, depending upon your hardware config, Windows 9 will boot up and present its Start Screen or desktop and that is where all your OS-based jiggery pokery will need to be done. No flipping, no switching. For tablets that means the Start Screen will be your Windows interface and PC users will be desktop bound. Looking at hybrid devices like the Surface Pro 3, WinBeta says that the new Start Menu will be able to be maximised so you can have easy touch access to apps and you therefore shouldn't miss the Start Screen.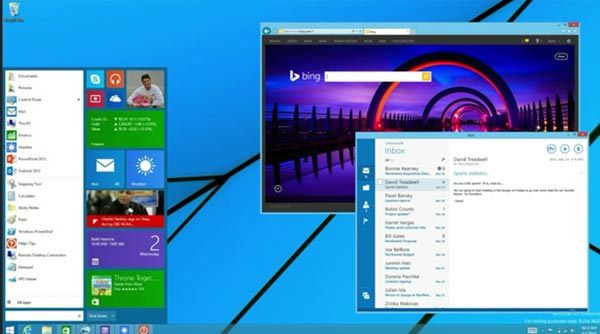 In other news about Windows 9 Threshold for x86 platforms we have heard about some more UI tweaks that will probably be present. Interactive Live Tiles are expected to arrive – so you can update/edit live tile app data on the tile without even dipping into the program, for example. Also the x86 platform will learn something from the mobile one: a notification centre, influenced by the one that appeared in Windows Phone 8.1, is said to be making an appearance.
Windows Phone and Windows RT unite - preview in Jan/Feb 2015
Windows RT users will face the complete removal of the desktop interface currently available on their devices. However the update to Windows RT – Windows Threshold for ARM – won't be available as a developer preview until the start of 2015, according to ZDNet. This version of Windows is expected to unify the Windows Phone and Windows RT OSes. Hopefully the ARM device plans will be fleshed out when Microsoft officially releases the x86 based OS preview at the end of September.
We previously covered other Windows Threshold news including Cortana integration, and the introduction of virtual desktops, modern apps in desktop windows and the culling of the Charms Bar. It will be interesting to see if all or just some of the insider info tipped features make it to the developer preview. Please don't take any of the insider info and ruminations mentioned above as being definite features of any upcoming Windows OS.