The Document Foundation has announced LibreOffice version 4.3, its latest major release. Originally created as a fork of OpenOffice back in September 2010, and constantly improved by hundreds of open source developers, this suite is Microsoft's major offline productivity competitor.
LibreOffice 4.3 is said to have reached a point of maturity and boasts an array of major improvements making it suitable for nearly every kind of deployment. The organisation behind the suite states that its products are now being used by over 80 million active users around the world. That's a big step up in popularity in recent years, as only 10 million users had downloaded the software by September 2011, according to CNet.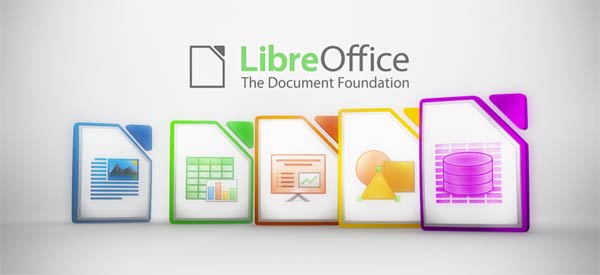 "The LibreOffice project shows that a large free software community can live and thrive without the patronage of a software vendor, to liberate PC desktops," wrote Thorsten Behrens, Chairman of The Document Foundation, in an email to HEXUS. "Today, you can't own a better office suite than LibreOffice, in term of features, interoperability, support for document standards and independence. After many years, LibreOffice brings the control of the PC desktop back into the hands of the users".
New features and improvements
Improved document interoperability with a range of document types include; "support of OOXML Strict, OOXML graphics improvements (DrawingML, theme fonts, preservation of drawing styles and attributes), embedding OOXML files inside another OOXML file, support of 30 new Excel formulas, support of MS Works spreadsheets and databases, and Mac legacy file formats such as ClarisWorks, ClarisResolve, MacWorks, SuperPaint, and more."
Spreadsheet program Calc will also allow more intuitive multi-tasking with the update, "thanks to the smarter highlighting of formulas in cells, the display of the number of selected rows and columns in the status bar, the ability to start editing a cell with the content of the cell above it, and being able to fully select text conversion models by the user."
3D models in presentation application Impress can now be inserted in the new open gITF format, although support for the feature is currently on Windows and Linux versions only. According to the release notes of LibreOffice 4.3, "to use this feature, go to Insert ▸ Object ▸ 3D Model." That's nice and simple.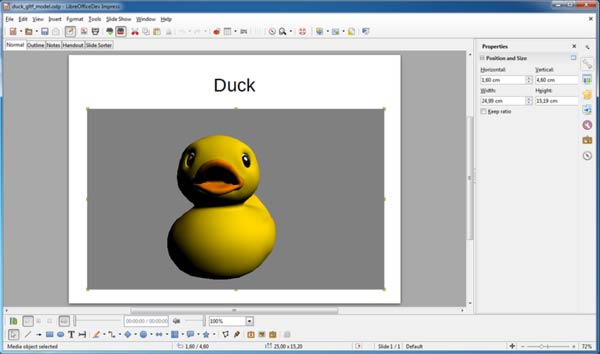 Support for 3D models in Impress
Lastly, the update will also provide better comment management as "comments can now be printed in the document margin, formatted in a better way, and imported and exported - including nested comments - in ODF, DOC, OOXML and RTF documents." Commenting and annotation funcmtions are important to many people's collaborative and team working.
Bug fixes
A longstanding 11 year old bug in the OpenOffice architecture has also been fixed with version 4.3, with support for "monster" paragraphs exceeding 65,000 characters which would have previously caused program stability problems. Interestingly LibreOffice's source code quality is also said to have been dramatically improved since October 2012 with the "reduction of the defect density per 1,000 lines of code from an above the average 1.11 to an industry leading 0.08".
If you want to give LibreOffice 4.3 a whirl you can get it from here.