A little something for the weekend, sir?

Pendrivelinux.com

has a tutorial showing how you can easily

set up Linux to boot from a USB stick drive

. Links are provided to the only two downloads required (both free) - one a suitable Mandriva-based Linux distribution.



A nice little project for this weekend, maybe?

Three things are needed in addition to a stick drive (which has to be off 512MB or larger). The first is an X86 PC that's able to boot from stick drives. The other items are those downloads. One is a small (2MB) USB tool from HP that lets you reformat the stick drive as FAT or FAT 32, the other the full Linux installer weighing in at 306MB.

The Mandriva-based Linux version, PCLinuxOS, is described as "a beautiful Live Linux CD compilation created by Texstar of pclinuxos.com".

Once you have the three elements, you install HP's app and use it to reformat the stick drive - remembering to back up anything important on the drive beforehand!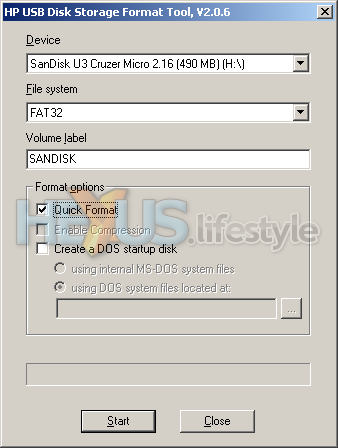 Then you unzip the Linux installer to hard disk, copy the

contents

of that folder to the stick drive and, afterwards, immediately delete the folder from your hard disk.

It's safer to unzip the folder directly to the stick drive because that reduces the chance that you'll accidentally carry out the next step from the hard disk. However, unzipping to the hard disk is much quicker than unzipping to the stick drive.

That next step is to run the MakeBoot.exe from the stick drive. This installs a tiny (10KB) file - ldlinux.sys - that makes the drive bootable. Had you run MakeBoot.exe from a hard drive you'd likely find yourself unable to boot up the PC - so do take care!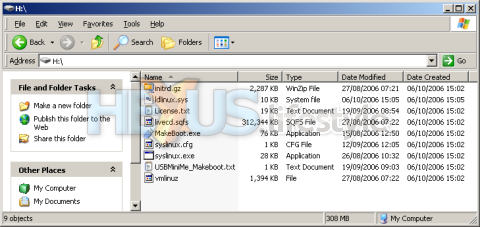 Stick drive ready to boot up into Linux (click for larger image)


The final step is to restart your PC with the pre-prepared stick drive plugged in and adjust the boot-up settings in the Bios so that the stick drive comes first in the boot-up order.

And that, essentially, is job done. When the PC nexts starts, it will boot up into Linux.

One other thing to know - if you don't fancy getting your hands dirty with Linux, it's possible to carry around with you on a stick drive a whole bunch of "portable" Windows apps that are set up to run from the drive - allowing you, in effect, to take your office with you and run it on any USB-capable Windows PC (XP or 2K). Available apps include Firefox, Thunderbird, OpenOffice and NVU. To learn more, check out our review, Go to work on a USB stick drive.

However, if the idea of having a portable version of Linux appeals, then do take a look at the Pendrivelinux.com tutorial (and it's better to rely on what that says than what we say!). Whether or not you give it a whirl, let us know your thoughts in this thread in the HEXUS.lifestyle.news forum.


HEXUS.links
HEXUS.community :: discussion thread about this article
HEXUS.lifestyle.reviews :: Go to work on a USB stick drive


External.links
Pendrivelinux.com :: tutorial
Porbableapps.com - home page