Microsoft has announced via its Office Blog that its browser-based Office Online software (formerly known as Office Web Apps) will be added to the Chrome Web Store. It also marks the start of a major update, rolling out new features for the Word, Excel, PowerPoint and OneNote online apps.
Making Office Online available in the Chrome Web Store means that users can now add Word Online, PowerPoint Online and OneNote Online to their Chrome App launcher to achieve easy fast access to create new Office documents online with a single click from their desktop. Excel Online is not currently present but is expected to become available in the Chrome Web Store shortly.
The update now allows Word Online users to do more than just adding and viewing comments in the View mode as editing comments are now permitted. This means that multiple users can make comments and changes at the same time. List making in Word Online has also been improved, handling the task like desktop Word with a more intelligent auto-numbering behaviour which detects whether one is continuing a previous list or starting a new one. Finally, the ability for users to simply insert footnotes and endnotes inline has also been added with this update.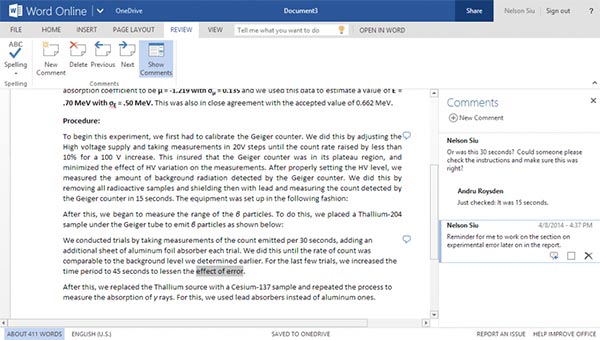 Excel Online now has Tell Me support, which works the same as it does in Word. The feature lets users ask the app how to do something, and then have the suggested relevant commands presented in a drop-down menu allowing actions to be performed right away. In addition, Excel Online now lets users add, edit and delete comments, as well as improved support for files that contain VBA, permitting users to "open and edit VBA-enabled spreadsheets without removing (or corrupting) the VBA contained in the file."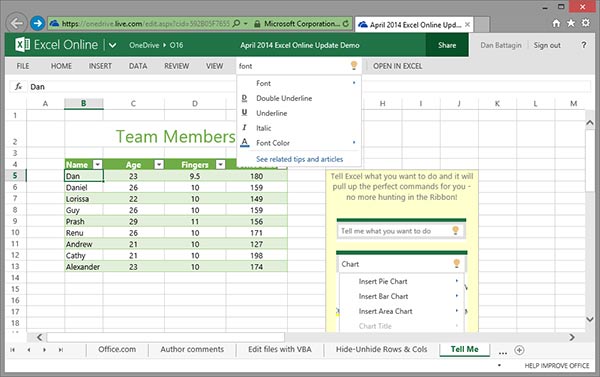 Changes made to PowerPoint Online include an update to the text editor which enables the layout to look more like the final result during editing. This update also features performance and video playback optimisations. Microsoft has improved responsiveness in speeding up advancement of slides in the editor and the support for playback of embedded YouTube videos is now present.
Lastly, OneNote Online has finally added printing support. It's also improved by allowing multi-column section or page navigation for a maximised reading and editing space to suit your particular device/browser window size.