Valve has announced its plans to start beta testing Steam Music. The company revealed features of the invite-only limited beta version via its community blog. Anyone running SteamOS, having opted into the Steam Client Beta, will have access to the feature - we are told.
Valve aims to integrate music controls into the Steam overlay via Steam Music as currently it is an issue for users to control music from their standalone music player during gameplay. Currently if you want to fiddle with your MP3 collection it interrupts the game, switching between screens during a full-screen game tends to take a few seconds. Whilst running Big Picture mode on a TV, it makes it even more difficult as most desktop music players are not created to be controlled from a distance/joypad, exhibiting problems with small UI fonts, lists and buttons.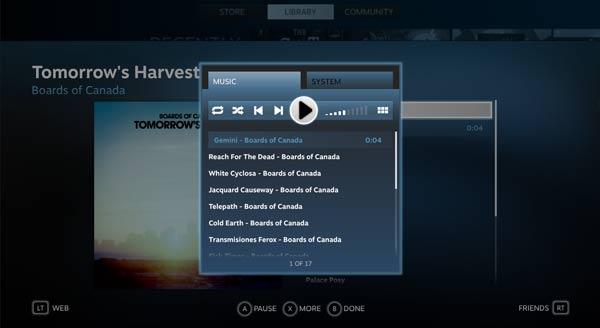 Steam Music provides users access to their music through their Big Picture/SteamOS interface and all they need to do it point it in the direction of their music library. It automatically syncs with the local music library creating full indexes of Albums and Artist lists. Once in-game, the music controls are integrated into the same Steam overlay which allows players to keep track of their friends and achievements. Players will be able to easily control playlists, browse their music collection and listen to any track without leaving their game.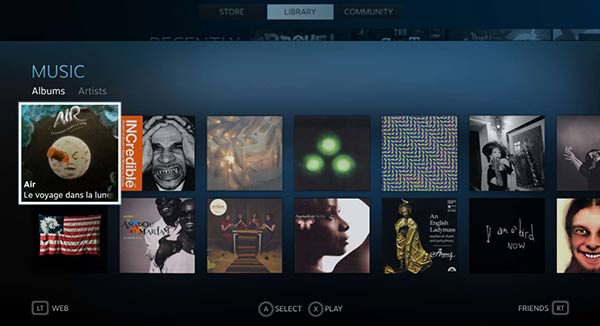 The beta is said to include the "most fundamental set of features to offer a great music listening experience within Steam," whilst Valve will look to add extras based on user feedback from this beta program.
To have a chance to try the beta, which will be rolling out to the Big Picture and SteamOS interfaces only for now, join the Steam Music community group with your Steam account. Accepted members will be contacted by Valve to participate after their account has been approved. It works like this; "A random selection of group members will receive email invites in waves, until the feature is released to everyone." We are told a Steam Music system for desktops is also "on its way".