On Friday ZDNet's Mary Jo Foley wrote that one of her sources informed her that Windows 8.1 Update 1 would arrive on 11th March. Also, at the weekend, prolific Russia-based Windows leakers WZor.net published lots of new screenshots from Microsoft's upcoming update to Windows 8.1. WZor had previously indicated that this update will be RTM at a non-specific date in March.
Windows 8.1 Update 1 arrival
Microsoft's "relatively minor update," to its Windows 8.1 OS will arrive on 11th March according to sources quoted by ZDNet's Mary Jo Foley. She writes that the source is both usually accurate and trustable and that the date in question is a Patch Tuesday – which ties in to the expectation that it will be delivered to users via Windows Update.
Another interesting piece of information from her source is that the update will feature some important behind-the-scenes changes to the OS to reduce its memory and disk space requirements. This is said to be a move by Microsoft to lower the OS burden upon upcoming budget specification Windows 8.1 tablets.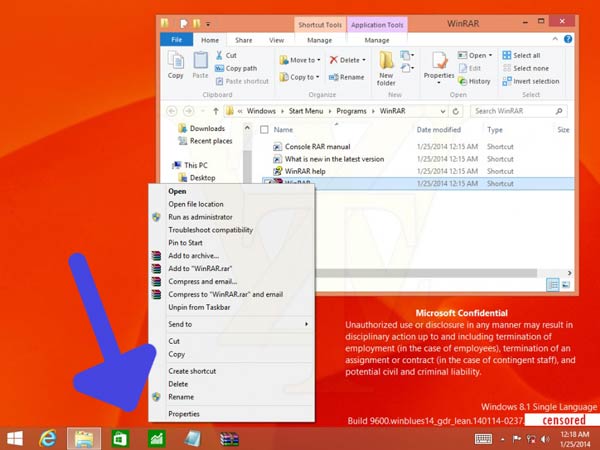 Modern UI app pinned to desktop takbar, rollover shows thumbnail.
WZor screens
Screenshots of the upcoming update to Windows 8.1 show several new and interesting features coming to the user interface on both the Modern and Desktop side of things.
Modern apps can be pinned to the desktop task bar and include mouse-over thumbnails,
Close boxes for Modern UI apps will be present,
Right-click Modern UI menus for mousy folk will be present,
Dedicated search and power icons appear at the top right of the Start Screen next to the user name,
But no 'mini' Start Menu…
Are any of these additions particularly welcome to HEXUS readers? The power button removal from the right swipe menu would be welcome for me if I didn't just use my PC power button for sleep and wake. However this really does look like a minor update as indicated by Foley.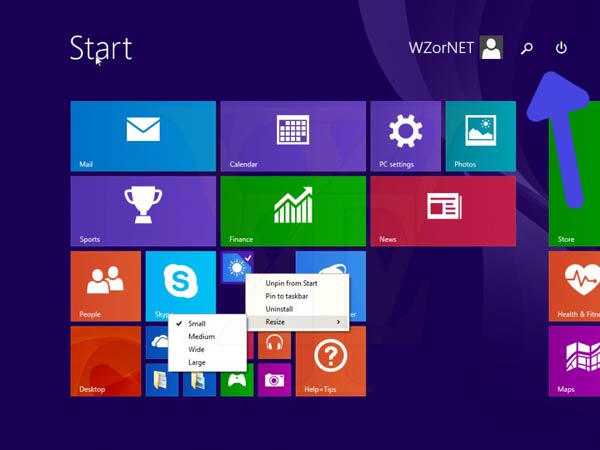 You can see the easy access search and power buttons top right,
also the right-click menu is shown mid-screen
The OS install size and memory requirement reductions are attractive as they should help manufacturers to knock out Win-Tabs even cheaper. I remember writing a year ago about 64GB Surface Pro machines being pretty tight on user storage space while manufacturers of Android and iOS tabs can sell devices with a base storage config starting at 8GB and 16GB respectively and would be able to charge quite a premium for a 64GB device.
Microsoft's Build 2014 conference starts on 2nd April and is expected to follow the release of Windows Phone 8.1 by a matter of days. Bigger changes to both platforms, including work on the unification of the OSes, is expected to come with Threshold about a year later.