Microsoft brought back the Start Button in Windows 8.1 and now it looks like it may go a step further with Windows 8.2 'Threshold' with the return of the Start Menu. This is according to information that "emerged" about Microsoft's future plans to Microsoft 'insider' Paul Thurrott.
As a reminder 'Threshold' is a codename for the next big updates coming to Windows which will unify the platform further. The release schedule is quite a way off, Spring 2015 is commonly believed to be when it will be delivered.

Start button may become more useful?
Thurrott says that he is aware of two pieces of "big news" with regard to 'Threshold' which are the reprieve of the Start Menu and the ability to run Metro apps in windows on the desktop.
Looking at the first revelation; the full Start Menu is said to be coming back as an option for users. This is a logical progression from Windows 8 to 8.1 to 8.2 in giving desktop users their preferred way of working back to them. We know from recent news that Windows 7's market share is growing faster than Windows 8.X and that Microsoft has put an indefinite delay on Windows 7's "retail end of sales".
Modern Windows UI apps running in a desktop window is another good idea for desktop users and, as Thurrott points out, is currently enabled by third party apps like ModernMix.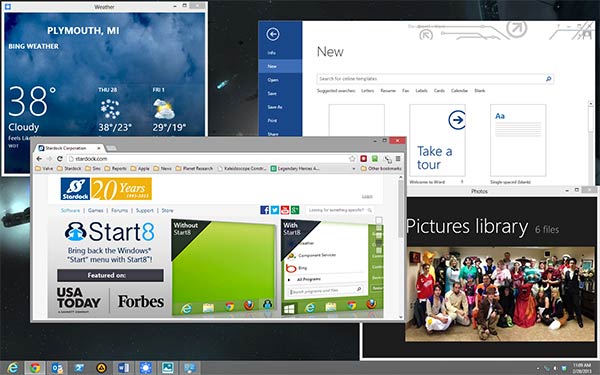 ModernMix in action
Some other Windows 8.2 'Threshold' information that has just emerged comes from another reliable source; Mary J Foley. Writing on ZDNet Foley said there will be three SKUs in the next Windows wave. She says there will be "A 'modern' consumer SKU; a traditional/PC SKU; and a traditional enterprise SKU."
The modern version will run mainly on ARM devices like Windows Phones, tablets, phablets and light/portable PCs. The traditional SKU would include a desktop and a lot of other familiar Windows features. Finally the traditional Enterprise SKU supports the usual business style control and features such as group policies, device management and Win32 apps. So these SKU's will unify Windows but will also present a choice for users.