The current primetime release of the Chrome browser for Windows 8 contains no real surprises; it's a tabbed browser and offers desktop and Modern UI modes. However it looks like some very big changes are on the way - if indications from the Chrome developer channel are a clear reflection of what will be coming next to end users.
Recently Google showed off its Chrome Apps initiative which extends the Chrome browser into something more like a platform, as it will be enabled to launch apps that exist outside the browser. The latest developer version of Chrome for Windows 8 goes a big step further as when launched it presents the user with much more than a full screen browser window – you get the whole Chrome OS. The Verge reports that "the UI and functionality is identical to Chrome OS". I'll have to take their word for that as I have never used a ChromeBook/Box.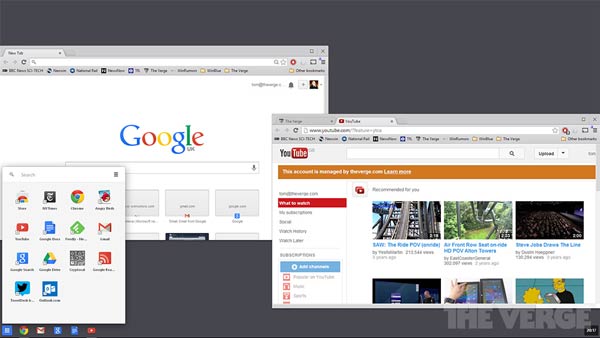 Looking at the screenshots of the developer version of Chrome for Windows 8 you can clearly see the multi-window desktop interface that presents itself within Windows. The multiple windows environment is joined by a taskbar-like Chrome OS 'shelf' of app shortcuts including Google staples like Gmail and YouTube. Also the ChromeOS 'start button' lets you quickly get to other installed Chrome Apps. Some Google fans could easily spend the majority of their computer time in this cuckoo OS and Play Store.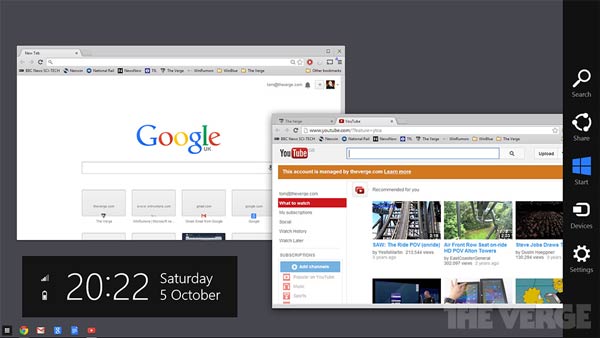 The Verge reports that Microsoft has enabled a special mode in Windows 8 for browsers that allows browser apps to mimic Windows 8 apps; being listed in the Windows app store and supporting features such as snapping. The Verge describes this new Google Chrome software as a "true Trojan horse," in the Windows environment. To further its aims Google is also said to be improving touch support in Chrome, something that will be increasingly important as more Windows tablets are sold.
New affordable touchscreen Chromebook on the way from Acer
In other ChromeOS related news it looks like the pricey Chromebook Pixel isn't going to be the only touch-enabled Chromebook on the block any more. GigaOM reports that an upcoming Acer C720 Chromebook will be listed with a touchscreen option when bought and configured. It will also be purchasable with various RAM and fixed storage configurations.