Microsoft has revealed a useful new feature that will be built into SkyDrive shortly. The Bing team has implemented OCR (optical character recognition) functionality so that text in your camera roll photos can be recognised and searched for. The firm promises this is the first of several new features that will make SkyDrive a more compelling cloud storage solution.
The Windows blog says that photo storage is the most common SkyDrive use – they use the largest amount of space on SkyDrive and these files are the most interacted with by users. Microsoft thinks that lots of people take photos with their smartphones now because they are actually interested in the text. "It could have been a photo of a product label at a store, a picture of a magazine article or ad, or a snapshot of a sign with info you wanted to remember," suggests Microsoft's blog.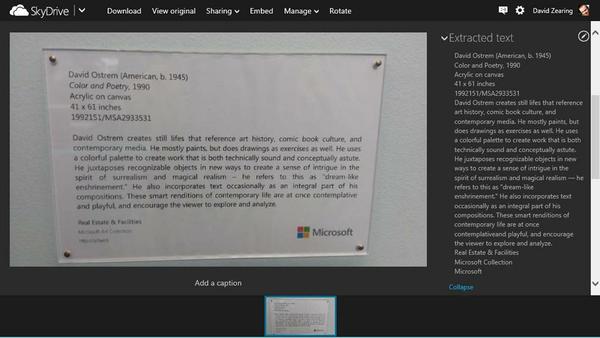 With this update to SkyDrive photos uploaded will automatically be OCRed for you. When you browse your photos on SkyDrive.com you will see the photo and beside it, in the properties pane, the extracted text, which you can copy to another program. If and when you upgrade to Windows 8.1 such OCR extracted text will be searchable from your desktop using Bing Smart Search.
Finally this new auto-OCR feature is to be available in English, Portuguese, Spanish, French, and German. Microsoft notes that as it is rolling out the feature might not be available right now for you but should be available soon.