A new post on the Microsoft Windows Blog describes how SkyDrive will more deeply integrated into Windows 8.1. Opening and saving files to SkyDrive will be as simple as using your hard drive is now "but with SkyDrive, your files are also available to you on your phone, tablet, desktop PC, and via SkyDrive.com". Microsoft is implementing 'placeholder files' to make working with files and folders, that aren't currently on your local computer, faster. Offline access to files is also on the way and brings "a seamless experience across connectivity states".
Placeholder files
Microsoft SkyDrive 'placeholder files' will allow users to do a certain amount of file management without having the file actually residing on their local disk. Instead a 'placeholder file' will be used.
"Placeholder files look and feel like normal folders and files. You can tap or click a folder and see all the folders and files inside it. You can tap or click a file and it will open, you can edit it and close it. You can move, delete, copy, or rename placeholder files just like you would any folder or file. But we only download the full file when you access it."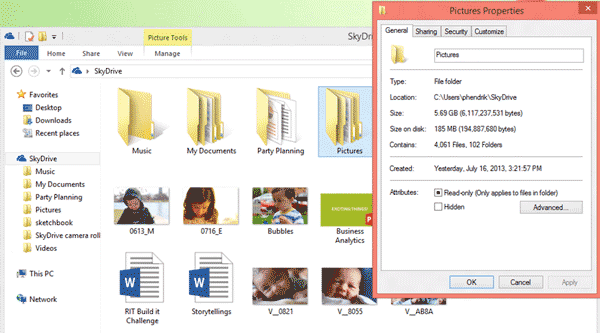 In the example screenshot above a 5.6GB folder of pictures on SkyDrive is currently using only 185MB of local disk space. The local data will consist of files you have edited, therefore the full image file has been downloaded, and pre-fetched thumbnail images which will enable fast scrolling and browsing of your library.
I have previously used proxy file systems in publishing where you can actually edit photos in basic ways, such as cropping and rotating, without having to load up the large originals. It doesn't sound like SkyDrive implements the 'placeholder file' system as deeply as this.
Offline file access
To offer a "seamless experience across connectivity states" in Windows 8.1 Microsoft has implemented offline file access. Now you can easily work on files, lose internet connectivity and next time you go online all changes will be synchronised. No complicated setup is required, just mark the files in SkyDrive and click the new 'Make Offline' button. Microsoft makes it clear in the file browser which files are available offline.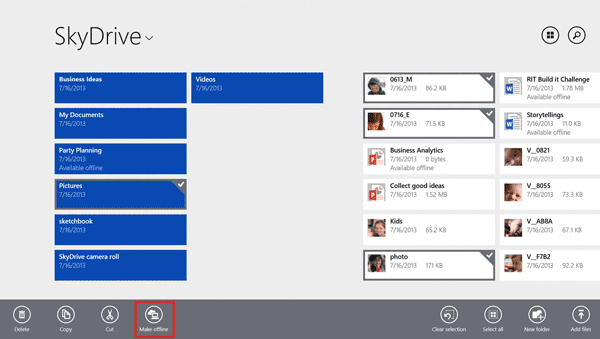 Microsoft will automatically make offline files that you have opened or edited before, as this fits in with observed user behaviour patterns. Across different devices these files may be different.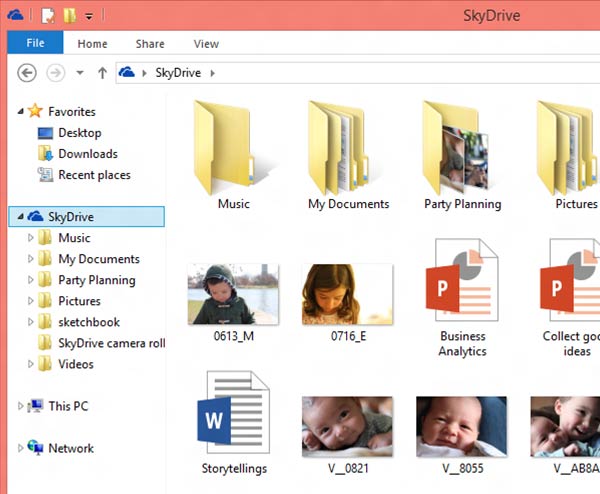 Opening, saving, searching
SkyDrive appears in the file picker in Modern UI apps in Windows 8.1 and you will see it in the desktop File Explorer too. SkyDrive files will also show up in search results just like your local files, with a little bit of document text extracted by the search indexer.