Apple has unveiled its new operating system for Macintosh computers. It is called OS X Mavericks, as the firm seems to have run out of big cats. Like its new operating system for mobiles, iOS 7, it will be arriving in the autumn. Mac computer hardware updates from last night's WWDC event were in the form of a new Haswell based MacBook Air and a completely redesigned, powerful Mac Pro desktop computer.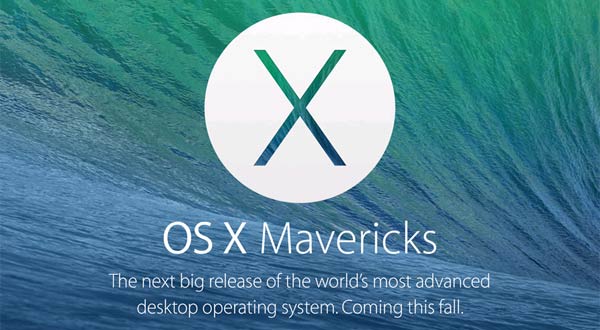 Mac OS X Mavericks
On Apple's preview page for the next release of OS X the new improved features of the OS are listed as; iBooks, Maps, Calendar, Safari, iCloud Keychain, Multiple Displays, Notifications, Finder Tabs, Tags and new power management technology.
The most impactful changes for day-to-day use of the new OS could well be the Finder Tabs feature which brings tabs to desktop file management windows. Tagging could be similarly useful, with user created tags helping you organise your files better. Multiple displays update gives much greater flexibility to the way Mac OS X users can work with multiple monitors.
Notifications can help alert you to updates and messages from various sources including communications and social networks, as you might expect, but also "you can now sign up with your favourite websites to get breaking news, sports scores, auction alerts, and more — even if Safari isn't running."

New advanced technology in OS X Mavericks is said to bring benefits of fast performance and long battery life as well as greater system responsiveness. Apple employs various systems to make this happen including Timer Coalescing which can reduce CPU activity by up to 72 per cent, App Nap effectively sleeps hidden unused apps, Safari and iTunes also have power saving efficiency tweaks. In addition Apple has introduced Compressed Memory to reduce paging when multitasking once memory starts getting full.
Mac Hardware
Apple also revealed a new MacBook Air last night. The updated version of this thin and light laptop includes a fourth generation Intel Core processor and Intel HD Graphics 5000. As well as perked up performance the stand out feature of these new notebooks is the battery life. Apple says the 11-inch MacBook Air can be used for up to 9 hours away from a power outlet, the 13-inch version is even better with up to 12-hours endurance. Also you will have up to 30 days standby – with instant resume.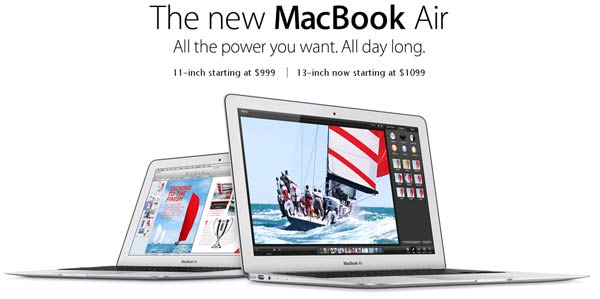 The MacBook Air also boasts the latest 802.11ac Wi-Fi technology. Fixed storage has been improved too with "Flash storage in MacBook Air is now up to 45 percent faster than the previous generation". Apple highlights that the new 11-inch model keeps the same price (US link) as the previous one but now has double the storage at 128GB. UK readers can also order a new MacBook Air now, direct from Apple here.
The new Mac Pro is a really interesting redesign, completely different from the previous large Mac Pro. Apple sums up the new design as follows "Engineered around workstation graphics with dual GPUs, PCI Express-based flash storage, high-performance Thunderbolt 2, new-generation Xeon processors, ultrafast memory, and support for 4K video, the new Mac Pro delivers state-of-the-art performance across the board."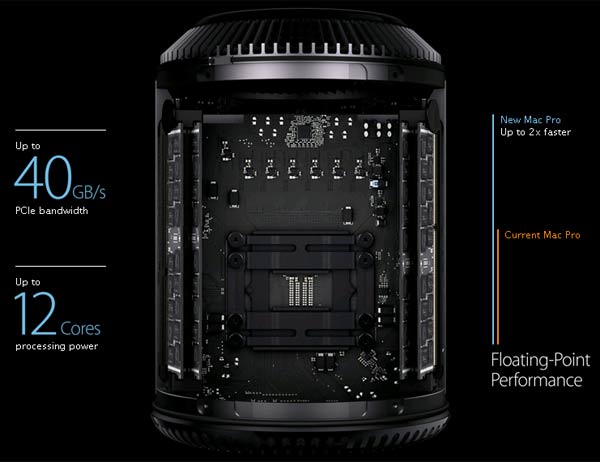 Powered by the Intel Xeon X5, configurations are offered with "up to 12 cores of processing power, up to 40GB/s of PCI Express gen 3 bandwidth, and 256-bit-wide floating-point instructions." Four channel 1866MHz DDR3 memory offers "up to 60GB/s of memory bandwidth". Graphics processing is supplied by two AMD FirePro workstation-class GPUs with up to 6GB of dedicated VRAM each. Apple uses a PCI Express flash storage solution providing storage that is "up to 2.5 times faster than the fastest SATA-based solid-state drive". A single fan at the core of the system draws air through the Mac Pro cylinder design; air passes vertically through the "unified thermal core" of the device. (I wonder if you can levitate a beach ball on the air stream.)
The new Mac Pro also is host to a number of cutting edge and standard computer interfaces including Thunderbolt 2, HDMI, USB 3.0, Ethernet, wireless and Bluetooth. This new Apple desktop measures just 9.9-inches tall and 6.6-inches in diameter. The machine will be built in the USA and released "later this year".