A few days ago we saw that there was some code in existing leaked versions of Windows 8.1 that suggested that users could configure their new Windows systems to boot straight to ye olde desktop. Now "sources familiar with Microsoft's plans" have told The Verge that the traditional Start Button is to be revived.
Please note that this information titbit refers to a Start Button not a Start Menu. It is understood that the Windows 8.1 Start Button will simply act as a graphical cue which will send a user to the Modern UI Start Screen. The Verge sources say that no menu will sprout from this new Start Button. However I do expect Microsoft to use this greater target area to make it easier to invoke the bottom left corner right-click menu in Windows 8; where you can access the control panel, task manager, device manager, command prompt and so on.
So far we haven't seen a leaked version of the upcoming Windows 8.1 update with a Start Button in place or implementing a boot to desktop option, which is unfortunate. However the Verge notes that the usually reliable Mary Jo Foley of ZDNet has a source who indicates that this is "now looking like the plan". As the public preview time nears, it should be in June, we should get at least one leak which has these features enabled.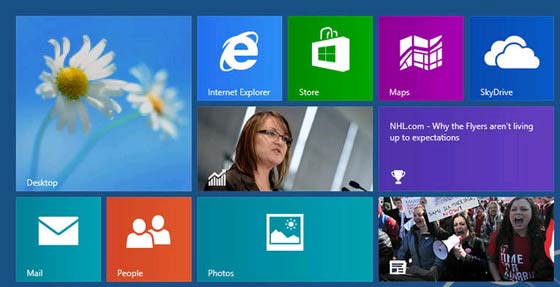 Remember Windows 8.1 will have more tile sizing and sorting options available
What will the revived Start Button look like? The Verge understands that it will be an icon that is "near-identical" to the Windows flag you can find in the Windows 8 charms bar. Start Button replacement software authors must be biting their nails hoping that Microsoft doesn't go ahead and reintroduce the Start Button as a standard feature of Windows. The various Start Button and menu replacement utility vendors have been doing a roaring trade since October.
I'd like to ask users of Windows 8 Start Button/Menu replacements whether such a button, which simply directs you to the Start Screen, would have been good enough to mean you wouldn't install the third party replacement?