Users of the new Windows 8 RTM OS have been poking around and customising the OS to work the way they like it. A common Windows user customisation is editing entries in the hosts file to block certain sites and domains. These domains may be of advertisers, known malware or with explicit content; anything someone may have a reason to block. It has been discovered that in Windows 8 RTM you can't use the hosts file to block well known advertising network Doubleclick or "ad.doubleclick.net" among others.
Facebook, ServedBy.Advertising.com, Google.com, Twitter.com and Yahoo.com too
As well as not letting users block the Doubleclick ad network Microsoft has decided users shouldn't block ServedBy.Advertising.com, Facebook, Google.com, Twitter.com and Yahoo.com either. Any host file editing to redirect these sites to will fail. However regional variations of the above, such as www.google.de can be blocked using hosts…
German Windows news website Dr Windows wanted to see what exactly happens. They edited the Windows 8 hosts file, "waited a few minutes" then opened the hosts file to take a look. Please take a look at the before and after pictures below.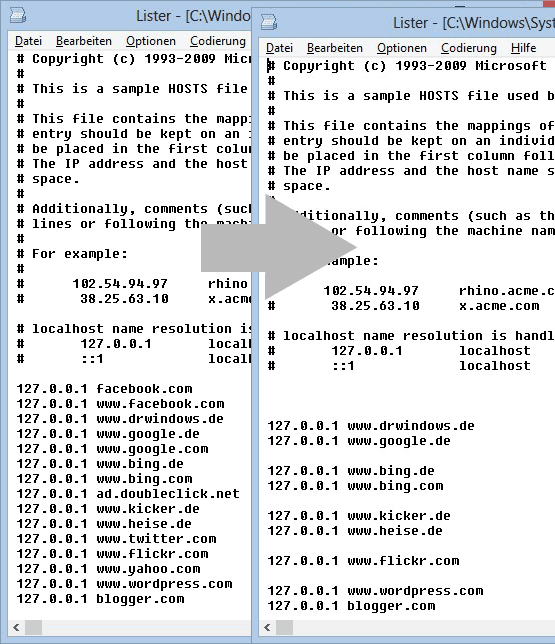 after a couple of minutes some hosts edits were removed...
Windows Defender is defending the hosts file from changes
After a little investigation it was discovered that the part of Windows 8 RTM that "unedits" your hosts file is the new Windows Defender. In Windows 8 RTM Windows Defender is not the same beast as within earlier Windows versions. The program is much more fully featured as a security suite and is comparable to Microsoft Security Essentials which you may have installed in earlier versions of Windows.
Even if you edit your hosts file and write protect it, once you open a web browser it will be restored to unblock the above sites. While you can get around this by turning off Windows Defender, it's advisable to have an alternative to this free security suite to replace it first. Windows Defender protects your hosts file to stop malware changing it. Malware often changes the hosts file to redirect your browsing to dodgy websites and to lock you out of from helpful antivirus vendor sites.
A user at GHacks.net has suggested that Windows 8 users who want to keep Windows Defender yet be able to edit the hosts file can actually exclude the file from "protection". Go to "Windows Defender > Settings > Excluded Files and Location. Add the hosts file and see if you still have the problem". If anyone is running Windows 8 RTM but wants to customise the hosts file this may be the best solution.