Ubuntu has come a long way since the project's first release way back in late 2004, but one of the constants throughout has been the use of the GNOME interface. That's all set to change, though, as Canonical founder Mark Shuttleworth has announced at the Ubuntu Developers Summut (via ComputerWorld) that future desktop releases of the OS will default to the new Unity interface.
Unity is the name of the UI designed by Ubuntu developers specifically for the netbook version of the OS and introduced in Maverick Meerkat, released earlier this month. Though it's a shell based around GNOME, it focuses on a simplified program-centric approach, rather than lists and menus.
Obviously some changes will still be required. The netbook version of Unity is designed to focus on a single full-screen application at a time, whereas desktop users will demand more advanced window-management.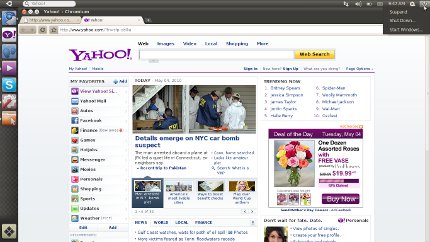 Unity - coming soon to Ubuntu desktops everywhere
According to Shuttleworth, the idea has already garnered a lot of positive feedback. As well as desktop users and developers, OEMs are very happy about the decision to make the very user-friendly interface the new default. This comes as little surprise, given that a unified OS across all of the consumer Ubuntu releases will make testing and supporting the OS much easier for manufacturers.
Since there's still a fair bit of work to do on preparing Unity for desktops, Shuttleworth hasn't committed to a firm release date. However, he expects that it will be ready for the release of Natty Narwhal next April.
This is a fairly major departure for Ubuntu, and could cause some waves among the development community - especially among GNOME developers. Shuttleworth admitted that it "is a significant, risky step. It will throw people's confidence," acknowledging that "there is a group that will take offence". However, he added that he felt that it was the best move for both users and developers in the Linux community.