If you haven't been willing to trial the recent release candidate of Firefox 3, you'll be pleased to here that Mozilla will be launching the completed product on Tuesday, June 17th.
Mozilla states that more than 34 months of active development have resulted in over 15,000 improvements, making Firefox 3 faster, safer and smarter than before.
With Firefox 3 finally ready to roll, Mozilla plans to mark the occasion with a "Firefox 3 download day". The promo-turned-event hopes to set a Guinness world record for the most software downloads in 24 hours.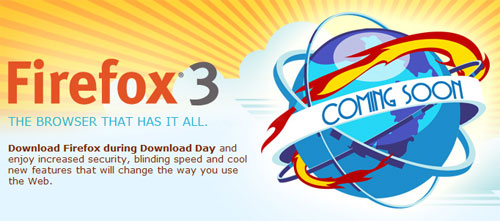 There isn't, sadly, a previous record to beat. This will be the first record attempt of its kind, but Mozilla states that it would like to beat the number of Firefox 2 downloads on its launch day - 1.6 million.
Will you be downloading Firefox 3 on download day, or will you be sticking with a different browser? Share your thoughts in the HEXUS forums.
Useful links
Official Mozilla website: mozilla.com
Official Firefox 3 Download Day website: spreadfirefox.com