Just ahead of the weekend Valve released a new Steam Client with a number of worthwhile user friendly tweaks and changes. Many Steam users will just accept these updates without reading through the reams of release notes, but if you do that you could miss out on some genuinely useful new features of the client. Among the most welcome changes were; easy movement of game folders around your computer drive(s), and more extensive / better controller support.
The main changes were as follows:
Updated Web control to Chromium v56.0.2924.10
Account email and password wizards are now web based and offer usability and recovery improvements
Game install folders can be moved to other Steam Library folders under Properties / Local Files
Improved download/update error messages when game files are locked by other programs
Improved error message when you fail to install a game and don't have enough disk space due to user quotas
Added 'Repair' option for Steam Library Folders to fix Windows user access rights
Support for including log files and crash dumps in system reports when submitting some types of help requests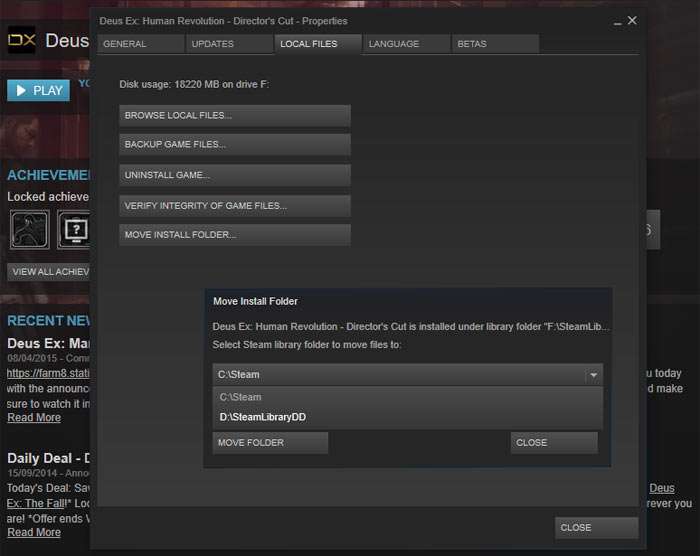 The new way of moving game folders is very quick and simple - and available right from the client interface. To move a game's files you just highlight a game in your library and right click it, select 'Properties', then select the 'local files' tab. From there you can choose the 'move install folder' option and navigate to a destination folder. On my system I had to first create a new Steam Library Folder (View>Settings>Downloads) on a different drive to provide drop down menu move options. You are limited to moving one game at a time this way.

The client update brought along a good lump of extra controller support too. Valve added XBox 360, Xbox One, and Generic X-Input controller configurator support which it explained "allows all recognized controller types to use the advanced mapping features of the Steam Controller Configurator". Furthermore, support for third party PS4 controllers and flight sticks was added. As with the main client, a series of bug fixes was delivered in the controller support software. You can read more on the Steam community website.