The news



Next week sees the introduction by devolo of a product - the dLAN 200 AVdesk - that promises ultra-fast around-the-home networking without the hassle and expense of installing a whole lot of Ethernet cables.



The dLAN 200 AVdesk - £180 for a Starter Kit pair and £100 as singles (not cheap, we agree) - is based on the HomePlug AV standard that uses mains-borne signals to provide data transfer speeds claimed to be up to a massive 200Mbit/sec (25MByte/sec).

Okay, that's only one-fifth of the speed of a gigabit (1000Mbit/sec) network but it's still fast enough to comfortably handle ADSL-2 downloads and uploads. It's also suitable for high-def TV over IP and for punting around the home compressed high-def footage, either directly from the net or from PC to PC or PC to network media player.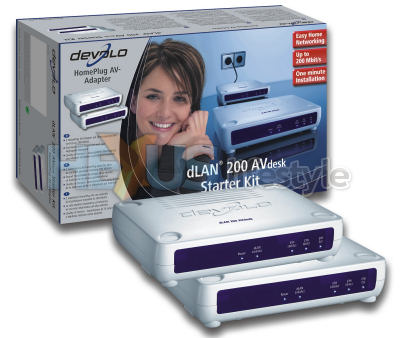 A typical high-def 1080 (1440x1080) Windows Media file has a data rate of little more than 16Mbps (2MByte/sec). And, although we really don't expect the new product to provide point-to-point data rates of 200Mbit/sec, we'd be disappointed and surprised if it didn't allow around half that nominal maximum data rate or, at worse, a third.

That's judged on difference between quoted and actual data rates we saw during the happy time we spent reviewing devolo's easy-to-use 85MBit/sec HomePlug product - the MicroLink dLAN Highspeed Starter Kit. And even 66Mbit/sec (8.25MByte/sec) pretty much covers all eventualities we're likely to see over the next few years!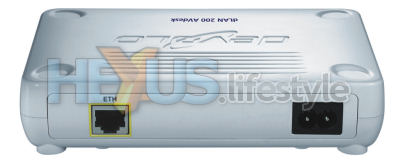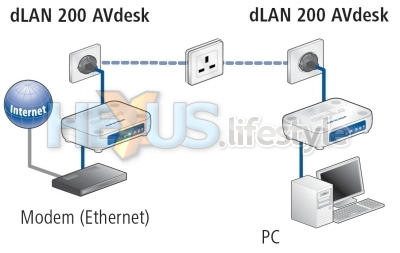 One of many possible usage scenarios


Check out devolo's press release on page two, then comment - or just tell us your experiences with mains-borne networking - in this thread in the HEXUS.lifestyle.news forum.


HEXUS.links
HEXUS.community :: discussion thread about this article
HEXUS.lifestyle.reviews :: devolo MicroLink dLAN Highspeed Starter Kit


External.links
devolo UK - dLAN 200 AVdesk Starter Kit home page
devolo UK - home page