For the serious overclocking community, says ASUS
Following Intel's announcement of November availability for its Core i7 processors, it was only a matter of time before motherboard manufacturers began to line up with their Nehalem-based offerings.
One of the first out of the gate, as always, is ASUS. The Taiwanese manufacturer has today unveiled its Republic of Gamers (ROG) Rampage II Extreme, and promptly labelled it as the "highest-performing enthusiast motherboard".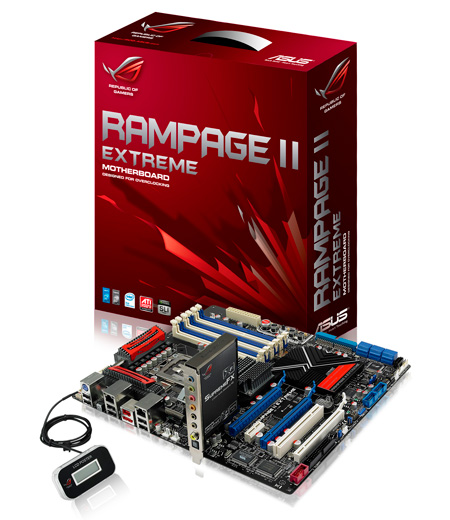 The board itself follows in the familiar Rampage Extreme footsteps with its black PCB and red, white and blue highlights. The protruding card is the bundled SupremeFX X-Fi sound card, and it sits alongside three PCIe 2.0 x16 slots that support x16, x8, x8, or dual x16 configurations of CrossFire or SLI GPUs.
Up top are the six blue-and-white-striped DDR3 memory slots, allowing users to take advantage of Nehalem's triple-channel memory architecture.
The LGA 1333 CPU socket is larger than the LGA 775 we've become accustomed to, and the processor area looks just a touch tighter as a consequence. That won't deter the enthusiast, mind you, and ASUS' multi-phase power management system - 16 phases for the CPU and 3 phases each for QPI/DRAM, the Northbridge and memory - will be appealing to the overclocking crowd.
As with the existing Rampage Extreme, features such as TweakIt and ProbeIt are available for on-the-fly overclocking. There's no word on pricing just yet, but we'd expect it to be pricey, and we're certain to see it in stores when Core i7 makes its debut. Head on over to page two for a few more images and the official specification.
Official press release: ASUS Unleashes Highest Performing Enthusiast Motherboard to Date: ROG Rampage II Extreme