The news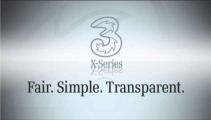 Mobile phone operator 3 today unveiled the pricing of its

UK flat-rate mobile-internet service - X-Series - filling in one of the two significant gaps in our detailed

HEXUS.lifestyle.headline of

mid-November, 3 changes mobile internet for ever with flat-rate service.

The company says that two base packages are available - X-Series Silver at £5 per month and X-Series Gold at £10 per month - and that these costs are on top of those for voice and text subscriptions, which, of course, you must also take out.

We now also know that the supplied phone is a Nokia N73 - a "multimedia computer" in Nokia's parlance - and that this will come with a 512MB memory card. The Sony Ericsson W950i is also compatible but not being offered in an X-Series bundle until the early new year. That bundle will include 4GB of memory.

The cheaper X-Series Silver package is said to give customers "unlimited" Skype-to-Skype calls whether they're using Skype on computers or on Skype 3 mobiles. Also included in the deal are "unlimited" instant messages, to and from Windows Live Messenger and Yahoo! Messenger - whether to another X-Series handset or a computer. Customers will also be able to search and browse the Internet from their mobiles.

The £10-per-month X-Series Gold package offers the same as Silver but gives users "unlimited" remote access to any of the media stored on your PC - by using the Orb service and your home broadband. And, if you have Sling Media's hardware and broadband at home, you'll be able to watch as much TV as you want being streamed over the net by a Slingbox to your phone from a satellite or terrestrial set-top box or a personal video recorder.

It's important to note that 3's interpretation of "unlimited" is some what different from a dictionary's - and, as with many phone and internet providers, actually means "limited". There are also limits on how much TV you can actually watch on your mobile.



This is what the company's

fair-usage policy

, says,





We have fair use limits and hope you'll use your common sense. These limits should be big enough for you to do all the things you want to do. But we'll get in touch with you if we think you're using our services unfairly, and especially if you're abusing them. If we find people are using X-Series above these limits, we'll review them. Here's our take on fair use:



* Unlimited data is 1GB per month. Also, your data usage doesn't include using your mobile as a modem.
* Windows Live Messenger won't count towards your monthly data fair use limit but has its own limit of 10,000 messages per month.
* Skype on 3 is 5,000 minutes per month. If you go over this you'll need to wait until the start of the next bill month for the service to resume, however Skype calls can still be received.
* Orb and Slingbox have a total combined limit of 80 hours a month.




New 3 customers will have to sign up for a minimum six-month contract (we think) and, if they opt for Gold and buy a Slingbox from 3 (price £99), the sign up is for a year (ditto).

Irritatingly, the info about X-Series contract detailed on 3's site appears somewhat at odds with that in the company's press release (reproduced on page 2).

On the site, you're offered two X-Series Silver packages and two for Gold - each described as requiring an 18-month contract.

The cheaper of the two Silver all-up deals is pitched at £20 per month for the first six months, then £35 per month thereafter. That buys you 300 minutes conventional airtime, plus 1000 conventional SMS text messages. The same deal with the additional Gold features is £25pm for the first six months and £40pm thereafter.

The more expensive Silver deal - £22.50pm, then £40pm after six months - gets you 100 extra minutes (400 in all) but fewer SMS texts - just 250. The Gold version of that deal costs £27.50pm to start off and then £45pm after six months.

So, is 3's X-Series fair-usage policy fair and will its packages change the mobile internet for ever? Check out the X-Series site and the press release on page two, then let us hear your view in this thread in the HEXUS.lifestyle.news forum.

HEXUS.links
HEXUS.community :: discussion thread about this article
HEXUS.lifestyle.headlines :: 3 changes mobile internet for ever with flat-rate service


External.links
3's X-Series - home page
3's X-Series - pricing page
3's X-Series - FAQ page
3's X-Series - upgrade page for existing customers
3's X-Series - fair usage policy