The news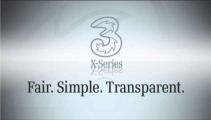 Mobile phone operator 3 is launching in the UK next month a flat-rate mobile-internet service - X-Series - that's likely to revolutionise mobile broadband by making its use far more affordable and far more like that of PC broadband.

In doing so, the company - part of the Hutchison Whampoa group - has teamed up with two of the biggest mobile phone maker, Nokia and Sony Ericsson, along with almost everyone who is anyone on the internet, including Google, Yahoo!, Microsoft, eBay and Skype.

With X-Series it will be possible, from December 1, to send texts for free using Skype, MSN Messenger or Yahoo! Messenger - without getting on the wrong side of your mobile phone company - and, similarly, to make and take unlimited free Skype voice calls. Web browsing and searching will also be unlimited.

X-Series will even let you use the Orb service to access on a mobile any of the media stored on your PC and made available via your home broadband. And, if you have Sling Media's hardware and broadband at home, you'll be able to watch TV being streamed over the net by a Slingbox to your phone from a satellite or terrestrial set-top box or a personal video recorder.

The first two handsets to fully support the full range of services available with X-Series are the Nokia N73 and the Sony Ericsson W950i.

Maddeningly, 3 has yet to say just how much the X-Series service will cost but our expectation is that the company will not launch at an unrealistic price point that makes itself and everyone else associated with X-Series look stupid.

The company has said, though, that there will be additional tiered flat-rate charges for enjoying digital media via X-Series - plus "fair-usage" conditions - but effectively pledged at today's launch event that it would be aiming to drive prices down hard and quickly.

This, it believes, is an absolute necessity to ensure that large numbers of phone owners start to take full advantage of the mobile internet which, as we all know, has until now largely been a gimmick or a plaything of the rich.

Our take on what 3 is doing is that it's great news for phone users and good for phone makers and content providers, too.

The only losers, it seems to us, are going to be those mobile phone operators in Europe and North America who don't realise that the wind has totally changed direction and don't follow 3's pioneering lead and introduce their own fixed-rate mobile broadbroad services.

If they continue to offer mobile internet at excessive prices, they will, we think, sink without trace.

Check out 3's own press release about today's X-Series launch, which includes more detail and commendations from a staggering number of top-tier companies, then tell us in this thread in the HEXUS.lifestyle forum whether or not you share our enthusiasm about the possibilities opened up by X-Series.