The news



S3 Graphics now has available on its US web shop - the GStore - a keenly-priced, low-profile addition to its Chrome S27 PCI Express graphics card range. Although only DX9-compatible, the $80 card, the ChromeS27 Low Profile DDR2, is reckoned to fully support "the graphics demands of Microsoft Windows Vista".



The company describes it as a 256MB/128bit 400MHz DDR2 board that's "ideal for 3D game play" and also "lends itself to the burgeoning home media center market, combining the best performance per Watt in the industry for low-heat, low-noise operation".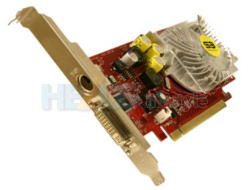 There's support for DVI and VGA displays - and for "Macrovision-certified TV-out". Importantly, there's also reckoned to be native 1080p HDTV support, thanks to the Chromotion 3.0 programmable video engine, with hardware accelerated motion compensation and WMV-HD capability.

Check out S3's press release on page two, then share your thoughts in this thread in the HEXUS.lifestyle.news forum.


HEXUS.links
HEXUS.community :: discussion thread about this article


External.links
S3 Graphics - GStore
S3 Graphics - Chrome S27 home page