Benchmarks

When it comes to measuring the capabilities of today's most powerful graphics processors, few metrics are as highly regarded as 3DMark. The latest version of the world's most popular benchmark provides an array of tests for varying levels of hardware, culminating in the Fire Strike test for high-performance Windows gaming PCs.
This cutting-edge benchmark makes full use of the DirectX 11 graphics API and is described by Futuremark as "our most ambitious and technical benchmark ever, featuring real-time graphics rendered with detail and complexity far beyond what is found in other benchmarks and games today."
AMD believes that 3DMark Fire Strike provides an accurate assessment of what today's latest graphics architectures are capable of, tapping into the GPUs' capabilities with industry-standard software interfaces such as DirectX11. A higher score in this benchmark usually correlates to a better experience in games. 16 modern graphics cards have been tested on an Intel Core i7 PC platform. Here is how they stack up.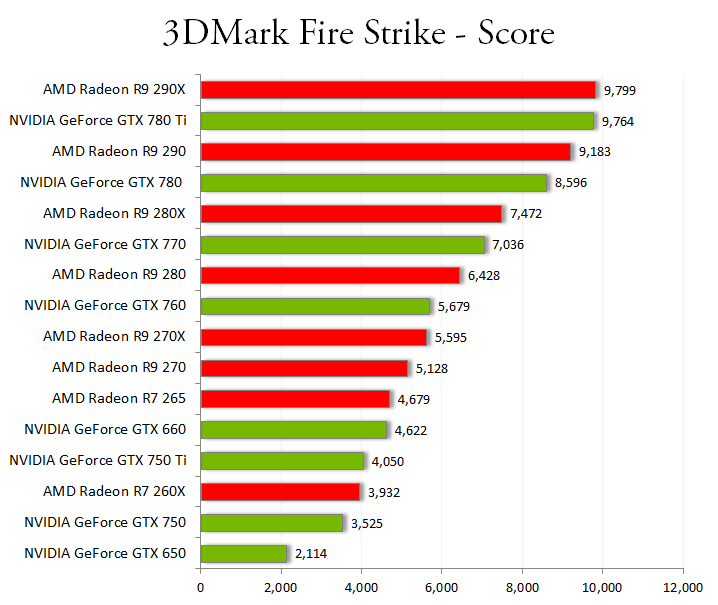 The benchmark results show that AMD has the performance lead in the default test. The Radeon R9 290X narrowly beats the GeForce GTX 780 Ti from NVIDIA. Looking further down the stack shows that AMD and NVIDIA trade places at each performance segment. The overall takeaway from this graph is that both AMD and NVIDIA have competitive graphics cards in their respective line-ups.
Of course, synthetic benchmarks only tell you so much, stripping away optimisations that manufacturers use to skew results, and we'd urge you to read full reviews found on the system setup page
Yet looking at pure performance alone does not factor value into account. Performance-comparable AMD graphics cards tend to provide more value than their NVIDIA counterparts. The value argument is expressed as the 3DMark score divided by the price in United States dollars, represented by the best in-stock price available at newegg.com.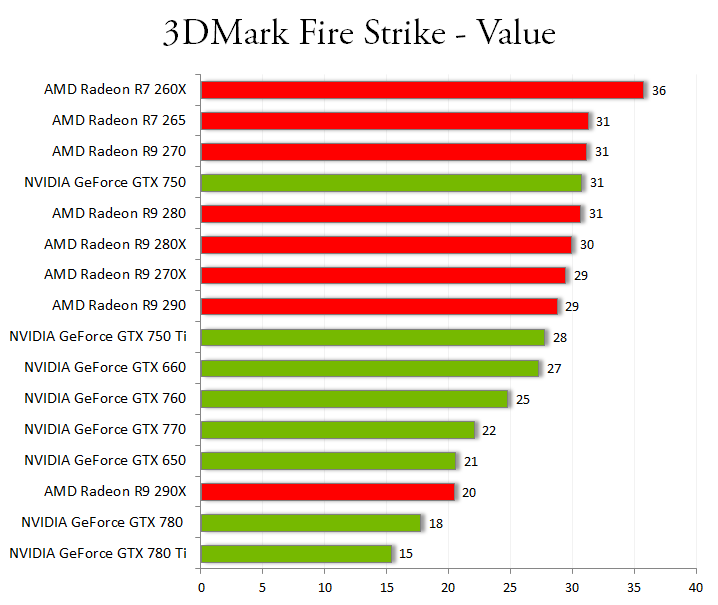 Once value is taken into account, AMD is the clear leader, offering the best bang for buck for the consumer. As an example, the Radeon R9 290X is faster than the GeForce GTX 780 Ti and also 25 per cent cheaper, leading to a higher value rating. In fact, AMD offers more value in practically every class of graphics card, be it entry-level, mid-range, or high-end.
Why not give the benchmark a go by downloading it from the above link and posting your own score, and learn how the numbers were calculated by clicking on the specs and feeds button. If anything, they provide a sanity check for your existing or new build, ensuring that it is working in tip-top fashion from the get-go.
A wide range of AMD Radeon graphics cards are available to purchase from Scan Computers.
For full disclosure, this article is sponsored by AMD.