Introducing Carrizo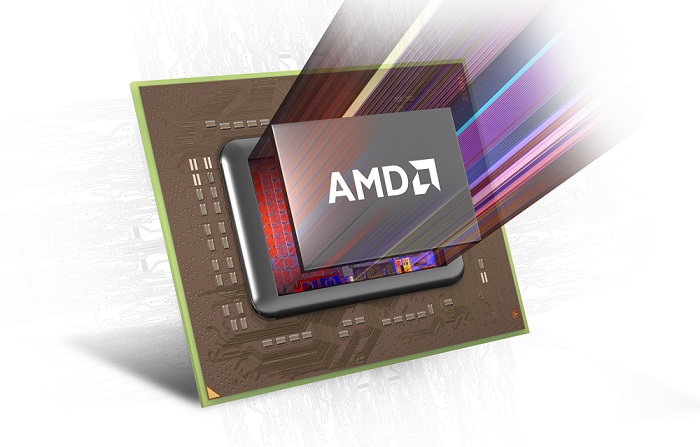 AMD's market share in the x86 CPU market has been declining year-on-year and many would argue this trend extends as far back as 2006 when market share figures started to diverge between AMD and Intel. The extent of ground lost to Intel spans the desktop and notebook markets and has been ebbing away at AMD's revenue figures and profitability. Typically, AMD maintained a stronghold in the low-cost desktop and notebook markets but in the past few years AMD has lost ground to Intel's aggressively priced Bay Trail SoCs for notebooks and Pentium dual-cores for desktops, among numerous other Intel products and general market trends.
The next few years are potentially make or break for AMD - if the company fails to regain market share its position becomes even more difficult to recover as Intel and Nvidia squeeze AMD out of the CPU and graphics markets. At Financial Analyst Day 2015 AMD laid out a comprehensive framework for its future plans, detailing how it would deliver key innovations to the APU, CPU and GPU markets spanning consumer, mobile and enterprise segments. An important part of that plan is "Carrizo," a sixth-generation APU design that, unlike previous APUs, is purpose-built for the mobile segment. In short AMD is only interested in targeting the mainstream notebook market with Carrizo, though the company didn't rule out higher-wattage desktop parts at a later date.
AMD has a defined plan for the Carrizo APU, it wants to deliver a premium notebook experience in the $400-700 segment and it believes Carrizo does that better than the competition - Intel's ULV Haswell and Broadwell Core M. The company justifies this strategy using IDC and GFK/NPD data on the state of the PC and notebook markets. AMD's estimates are that 38 per cent of all notebooks sold are in the $400-700 price band and this constitutes 24 per cent of the entire PC industry. In short, if AMD can make headway in this market segment then the scope for market share growth is notable.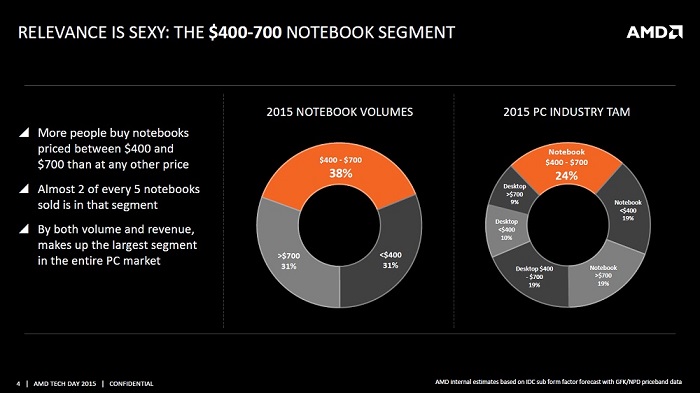 Carrizo does not target the notebook market alone since there are still a large number of devices sold in the sub-$400 segment. AMD is deploying Carrizo-L, a more affordable and cut-down version of the Carrizo APU design, to target that market. However, the focus of AMD's attention is primarily on Carrizo since it will ship in more expensive notebooks with higher average selling prices (ASPs) that lead to better profitability for AMD and notebook vendors. Despite recognising that premium notebooks of $700 or more constitute 31 per cent of the market, AMD doesn't deliver a strategy for targeting this segment. This might seem like a negative move but the company is fully aware that its 15 to 35-watt Carrizo APUs simply do not have performance or scalability to take on Intel in workstation and gaming notebooks.