PC chassis, components and accessories specialist Thermaltake has unveiled a pair of new CPU coolers. The coolers are equipped with hydraulic bearing 120mm PWM fans and are said to provide "impressive cooling performance" at "ultra-low noise" levels. These coolers get their 'Riing' name from the distinctive LED lighting effects they produce. As per the headline, Thermaltake has unveiled two models; one with blue LEDs and another with red LEDs.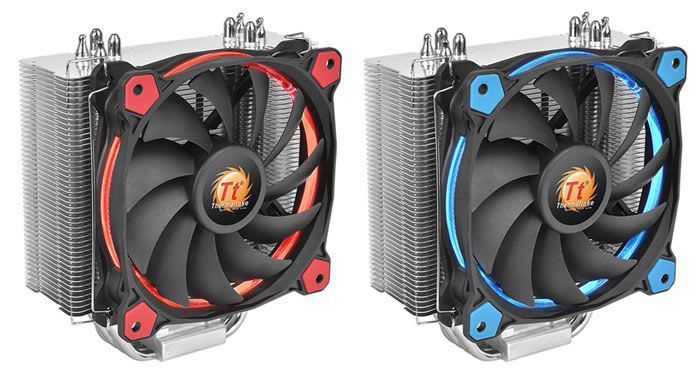 If you are in the market for a heatsink and fan based CPU cooler designs sporting a 120mm fan are among the best choices if they fit in your system as the larger fan can turn slower to move sufficient air during its cooling duties. Reinforcing its inherent qualities, Thermaltake says that its fan uses hydraulic bearings for "silent operation". Furthermore it says it has optimised the fan blade design using 11 contoured elements, thus providing the best balance between noise and performance. Thermaltake's 'Wind Blocker Frame' condenses the airflow creating a compression effect beneficial in directing the airflow to where it is needed most, plus it hinders unwanted vibration effects.
The Riing Silent 12 CPU cooler uses optimized 0.4mm thickness aluminium fins with 2.2mm air gaps, 4 x Ø6mm solid copper heat-pipes, and direct copper contact with the CPU, for efficiency. Stabilising the rather bulky design, and further keeping any associated noise at bay are pre-installed anti-vibration rubber pads.
Above and beyond its fan and heatsink design considerations, PWM functionality helps spin the fan to its optimum speed depending upon CPU demands. Finally, to top it all off, you have the patented LED ring lighting effects. The cooler is compatible with most modern PC systems and is supplied with a low-noise cable (LNC).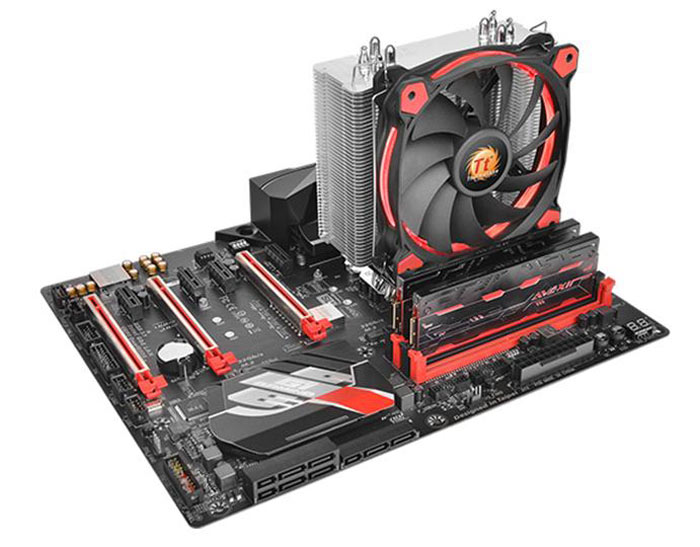 Riing Silent 12 technical specifications are as follows:
P/N: LCL-P022-AL12BU-A (Blue) and CL-P022-AL12RE-A (Red)
Compatibility: Intel LGA 2011-3/2011/1366/1156/1155/1151/1150/775
AMD FM2/FM1/AM3+/AM3/AM2+/AM2
Heatsink Material: Aluminium Fins, Copper Heatpipes
Heatpipe: Φ6mm x 4 pcs
Dimension: 159 x 140 x 74mm (H x W x L)
Fan Dimension: 120 x 120 x 25mm(L xW x H)
Fan quantity: 1pcs
Fan Speed: 500~1400RPM, 300~700RPM (with LNC )
Rated Voltage: 12V
Start Voltage: 9.0V
Rated Current: 0.21A
Power Input: 2.52W
Air Flow: 53CFM
Air Pressure: 1.23mm-H2O
Acoustical Noise: 18 ±1 dBA, 13 ±1 dBA (with LNC)
Life time/Fan Life time: 40,000 hours
Pin Connector: 4 pin PWM + LNC (Low-Noise Cable), 50% fan speed and 29% noise can be reduced
Cooling Power: 150W
Weight: 825g