Specialist PC cooling solutions provider EK Water Blocks (EKWB) has issued a product recall. The affected products are the EK-XLC Predator 240 Rev 1.0 and EK-XLC Predator 360 (incl.QDC) Rev 1.0. The recall reason is that these units could potentially leak liquid into users' systems. Customers who own one of the affected units will be able to return it for replacement or refund - with no associated costs.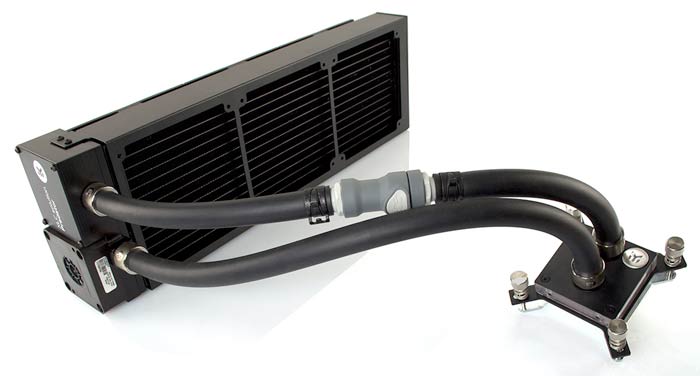 If you are worried that you might own one of the recalled products please check below with particular reference to the EAN codes and identification label examples (click to zoom in).
EAN Code: 3831109863343, EK-XLC Predator 240, Rev 1.0
EAN Code: 3831109863350, EK-XLC Predator 360 (incl.QDC), Rev1.0
According to the EKWB recall bulletin, the firm initially thought that the leakage problem was of a limited nature but as time marched forward the problem appeared to be more widespread. The firm is thus recalling all Revision 1.0 units of the affected product lines produced from October 2015 until end of December 2015.
Current statistics are said to show that 1-in-10 of these products have sprung leaks. If you have one of the affected units and haven't experienced a leak yet you are still advised to discontinue use of this cooling device immediately and take part in the recall.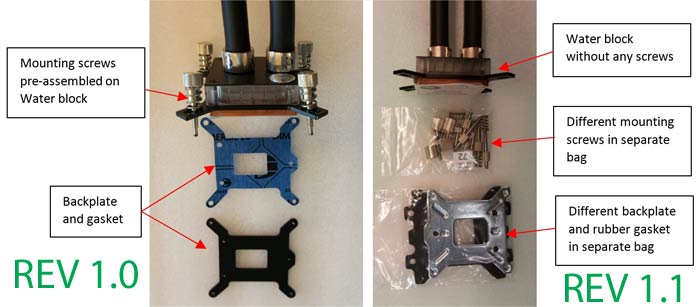 If you choose to go for a replacement you will receive an EK-XLC Predator (Revision 1.1). You can see the differences in the v1.0 and 1.1 designs in the picture above.
Return procedure
To return your product for replacement you can deal directly with EKWB or your reseller. There's an online form provided by EKWB to facilitate a direct return at http://rma.ekwb.com. All shipping charges will be covered by EKWB. If you wish to get a refund EKWB says that you can only do that via your reseller, unless you originally purchased via the EKWB webshop. Resellers have been instructed to accept the Rev 1.0 product returns and issue a full refund if requested, until 29th of February 2016.