Sandia Corporation, a wholly owned subsidiary of Lockheed Martin Corporation, has discovered and developed an innovative new way to cool CPUs and LEDs. A traditional cooling method for a CPU combines a heatsink firmly attached to the CPU combined with a fan unit to disperse hot air. The new Sandia Cooler doesn't touch the thing it is intended to cool but spins above it a mere 1/1000th of an inch on an "air bearing".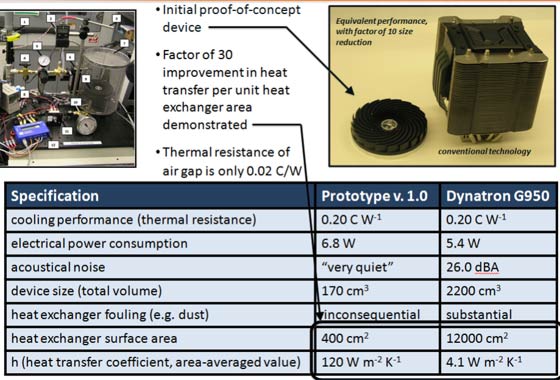 A new video from Sandia shows the device in operation, discusses how it works and highlights possible industry applications. Interestingly licenses are being signed by an LED cooling company and at the time of the video recording four chip cooling companies were due to meet with Sandia to discuss business partnerships. The Sandia Cooler is competitive in size, weight, reliability and noise, also manufacturing costs shouldn't be too high as, like many great ideas, it is actually based on quite a simple design.
The cooler unit spinning at 2,000RPM above your expensive CPU may sound a little hazardous but the company say that very tight manufacturing tolerances aren't more necessary than other computer components because "the hydrodynamic air bearing gap distance is passively self-regulating." Also dust particles that may fit in the air gap "are swept outward and ejected by centrifugal force".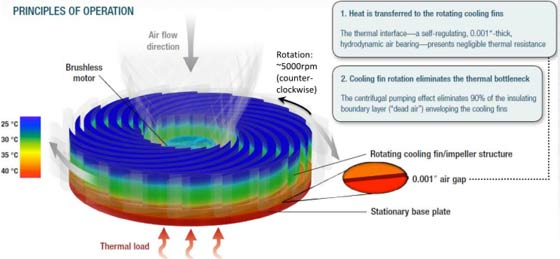 All in all it sounds like a winning technology providing licensees aren't charged too much for using the technology and make these devices at an attractive price to end users. Sandia quote a per-unit manufacturing cost of less than $10 US.