NEXUS keeps the Core i7 coolers coming
Remember Nexus' FLC-3000 - one of the first CPU coolers to be billed as Core i7 compatible?
Well, the Dutch manufacturer of cooling solutions is today launching its second ready-for-LGA1366 cooler in the form of the low-profile LOW-7000.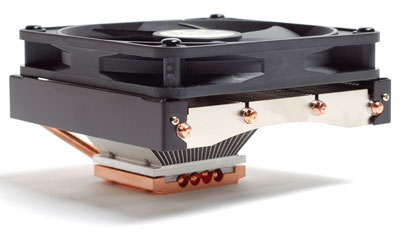 The LOW-7000, pictured above, measures only 7cm in height and features a PWM-controlled 120mm fan. The slimline design makes it ideal for a HTPC setup, and noise shouldn't be a problem - with the fan running at 500rpm, Nexus engineers say they were unable to measure the inaudible fan in an ISO-certified anechoic chamber with 15dB(A) background noise.
The cooler features four 6mm copper heat pipes, a SkiveTek heat sink and ultra-thin aluminium fins. For those of you who rightfully think that Core i7 processors are overkill in a HTPC, the LOW-7000 supports both LGA775 and LGA1366 sockets thanks to Nexus' handy quad-holed mounting brackets, so it'll handle your Core 2 chips, too.
No word on pricing just yet, but a complete specification and additional images can be found on page two.